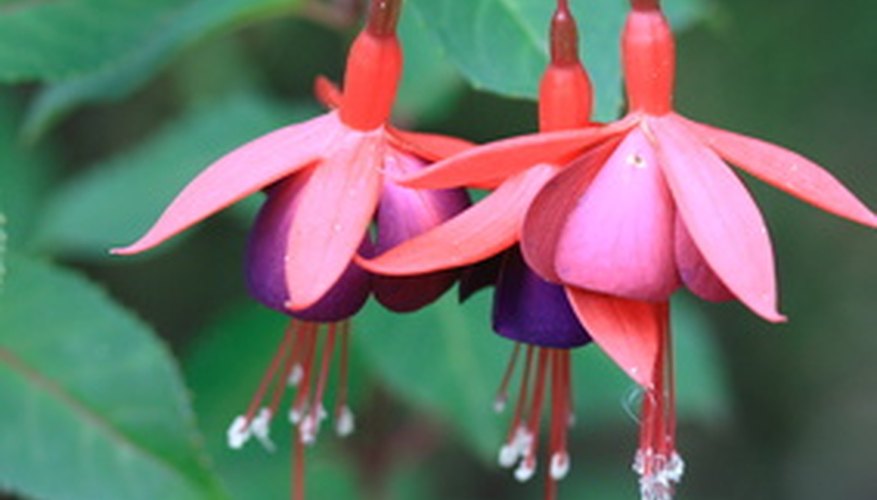 The Fuchsia genus boasts more than 100 flowering plants, most of which are medium-sized shrubs that hail from areas throughout the Americas. Fuchsias are popular garden plants for their distinct, colorful flowers, which resemble hanging lanterns and are highly attractive to hummingbirds. Gardeners interested in cultivating fuchsia plants have a variety of cultivars to choose from.
Coralle
Coralle (Fuchsia 'Coralle') is a low-growing fuchsia plant that reaches an average height of between 1 to 3 feet. The tropical perennial sports narrow, long orange red flowers, which appear throughout the summer and attract hummingbirds. Coralle also offers bushy, dark green leaves. Suitable for a border, bedding or container plant, Coralle fuchsia does best in USDA zones 9 to 11. Plant the flower in a well draining soil in either partial or full sunlight, and water on a regular basis. You may wish to enhance the soil with a weekly boost of fertilizer to promote flower growth. Always take care to apply fertilizer after you've watered the plant first.
Fuchsia Magellanica
Fuchsia Magellanica is a classic looking species of fuschia that is often simply referred to a "fuchsia" rather than the cultivar name. A native of Chile and Argentina, this particular fuchsia variety is fairly cold hardy and may be grown in USDA zones 6 to 9, though it may die back down to the ground in the winter in cooler climates. The shrub may grow to be 10 feet tall, producing waxy, bi-colored flowers in shades of red, pink and dark purple. The summer blooming plant makes an excellent specimen or border plant, and, like other fuchsia varieties, it is sure to attract hummingbirds to the yard. The dark, shiny berries of the fuchsia will also be enjoyed by native wildlife.
Magical Gold
Magical Gold (Fuchsia magellanica 'Riccartonii' ) is a variety of fuchsia that reaches an average height of between 6 to 10 feet. A cultivar bred from the Fuchsia Magellanica, Magical Gold has similar care requirements but a slightly different appearance. The shrub boasts dark leaves that are tinged with bronze, and downward pointing, dark purple and red flowers that are quite narrow. The plant blooms throughout summer and into fall, attracting hummingbirds. The shrub does best in USDA zones 6 to 9, ideally in morning sun with afternoon shade. Plant Magical Gold in a well-draining, fertile soil, and water often. The plant may be grown indoors, but be sure to watch for spider mites and other indoor pests.