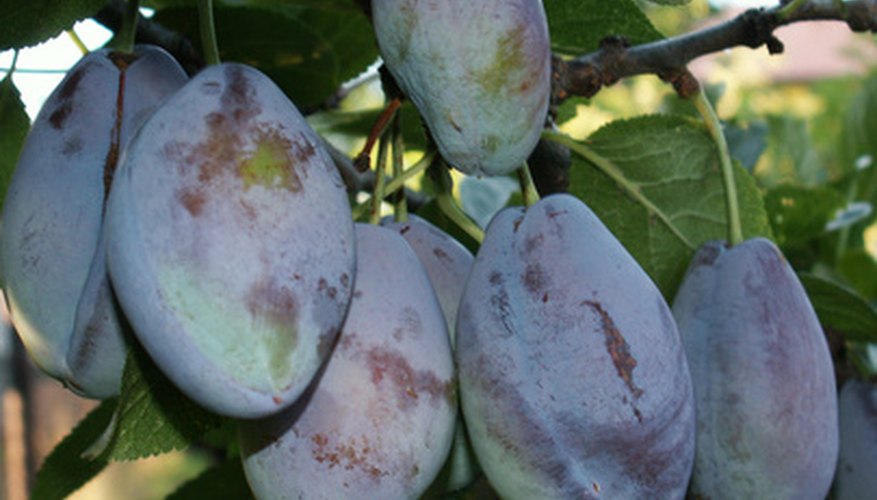 There are many different ways to eat plum tree berries. Plum trees and their delicious fruit come in a number of varieties. Some are tart, some are sweet, and some are mealy and better left for the local wildlife. But take care before eating the plums of any tree in your yard that you have treated with chemical pesticides. Read the label on any pesticides you may have used to make sure that it is labeled as safe to use on fruit trees. If you are still in doubt about the safety of your plum tree's fruit, contact the pesticide's manufacturer or your local county extension office.
Harvest your plum berries at the right time. The ripening time of your plums largely depends on the species. Ripe plums smell sweet and yield when you squeeze them. Plums degrade quickly once they are picked, so leave them on the tree until you are ready to eat them.
Eat plums raw. This is one of the most common ways to eat store-bought plum berries. But not all plums are suitable for raw eating. Sampling a plum will quickly let you know if they're good to have on their own. Eat sweet or sour plums alone, diced and added to fruit salad, or mixed into yogurt or cereal.
Stew your plums with water or wine, cinnamon or other spices, and even other fruit. Stewed plums are often served at breakfast with yogurt or over ice cream as a desert.
Make prunes. Drying your plums is a way to make them last much longer. You need a special fruit dehydrator to dry these large berries.
Make jelly or jam. Certain plums just don't taste great raw. Enhance the flavor of these plums with the sugar in a jam or a jelly.
Add them to a recipe. Use plums to make pies, cobblers, cakes and puddings. Make them into a sauce and eat them with duck, or cooked with fish, chicken or beef.
Bake your plums. Halve and destone them, place them on a baking dish, sprinkle them with cinnamon, drizzle them with honey and bake them for 15 minutes at 350 degrees F. Add a dollop of creme fraiche when they're done and serve them for desert.