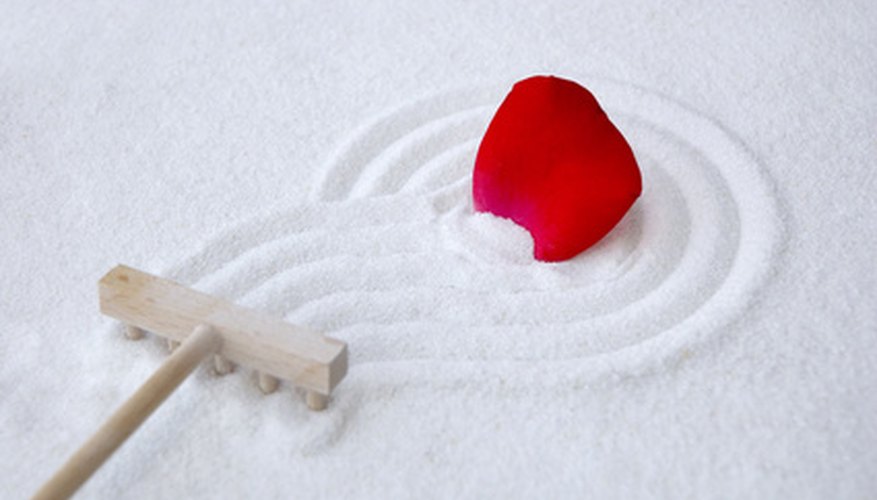 In Zen gardening, the elements of nature are represented in by different elements in the garden. For example, a single tree may represent an entire forest. A boulder may stand in for a mountain range. And a wide swath of pebbles that have been groomed into various shapes may recall an ocean of water. Although specific design elements come into play when designing a Zen garden with pebbles, you would install this garden the same as a pebble path or patio.
Measure and mark the dimensions and boundaries of your pebble garden using stakes and string.
Remove the top layer of sod from your pebble garden using a sod cutter.
Remove the soil beneath your pebble garden to a depth of 8 inches. Compact the soil using a compacting tool. Unroll landscaping fabric and cut to fit your pebble garden. Attach the fabric at the corners to the ground using plastic landscaping staples.
Place a 1-inch layer of coarse sand over your soil. Cover this with a 1-inch layer of crushed rock over the coarse sand. Compact the crushed rock using the compacting tool.
Buckle sections of metal edging together and place them against the walls of your pebble garden so that less than ½ inch of edging is visible above the soil. Snip the metal edging to fit using tin snips. Position stakes along the bottom of the edging and pound the stakes into the ground.
Fill the pebble garden with a 3-inch layer of fine sand.
Cover the sand with a 2-inch layer of pebbles.