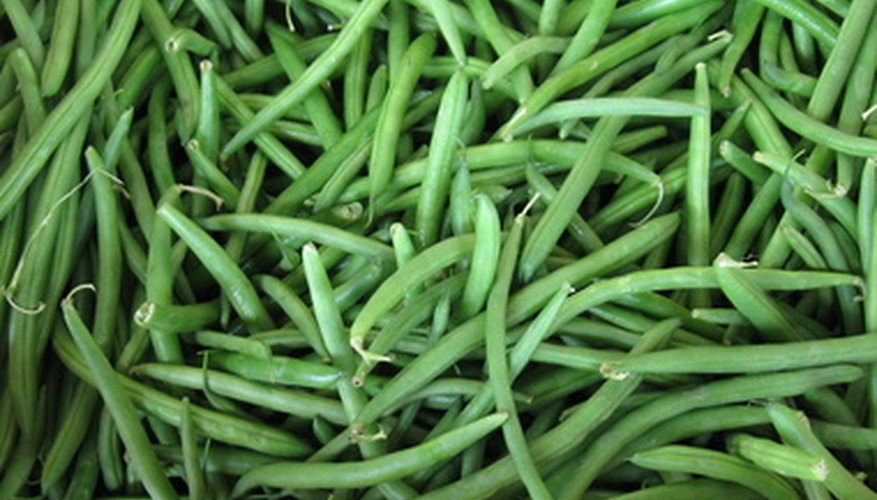 Dry pole beans by a variety of methods, all of which depend on how you plan to use the final product. Shelled dried beans are used in soups and stews. The whole bean, including the pod, is used in much the same way, but can also be re-hydrated and used as a regular side dish to a meal. In the old days, dehydrated pole beans, which were air-dried, were called leather britches and a common form of bean preservation.
On the Vine
Allow the pole beans to fully brown on the vine. They are ready to be picked when the beans rattle in the pod.
Pick the pods from the vines. Shell the beans by pulling apart the dried pods and letting the beans fall into a large bowl.
Store the dried beans in air-tight containers until needed.
Dehydrator
Wash the beans to remove any dirt and debris from the pods.
Break off the ends and string the beans by pulling each end in the opposite direction of the break.
Break the beans into 2- to 3-inch pieces.
Lay the pieces in a single layer on dehydrator trays.
Dehydrate for 8 to 12 hours or until the beans are leathery to the touch and bend but do not break when pressed in half.
Air Dry
Thread a carpet needle with 2 feet of heavy-duty thread. Tie a knot in the bottom of the thread.
Thread pole beans onto the thread by piercing the beans in the middle and moving them to the bottom of the thread.
Hang the thread from ceiling hooks in a well-ventilated area once each thread if full.
Allow to dry in the air until needed. The beans will take between two and three weeks to fully dry.