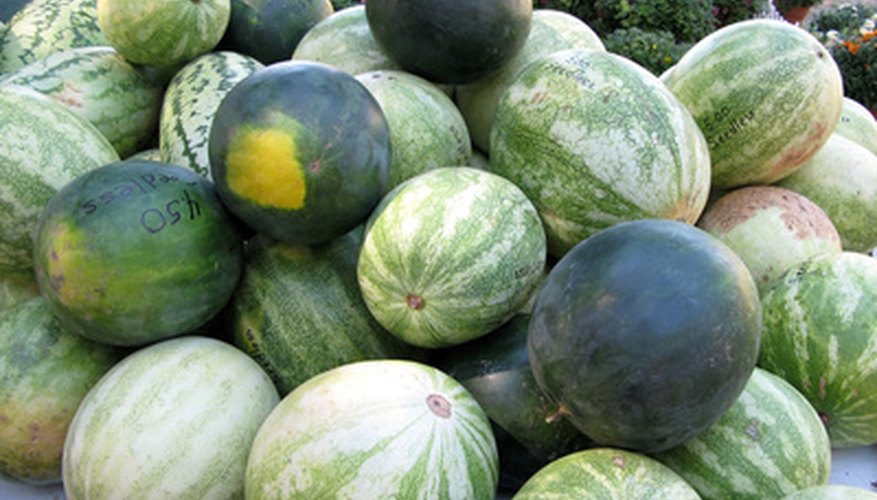 The key to successfully planting watermelon is timing. Some varieties of watermelon require a long growing season, and eager gardeners may plant seeds too early for seedlings to thrive. Northern climates have a shorter growing season and cooler temperatures that can slow watermelon growth. As tempting as it may be to plant seeds that you saved from the watermelon you just cut, it may be too late in the season to plant them and get a harvest.
Timing
Watermelon seeds thrive in warmer temperatures. At a minimum, seeds should not be planted until after the last frost. The warmer the weather is, the faster the seeds will germinate and the plant will grow. According to Essential Garden Guide.com, watermelon seeds take about 12 days to germinate when the average temperature is 68 degrees Fahrenheit. That time is reduced to four days when the temperature averages 86 degrees Fahrenheit.
Effects
Watermelon plants are very sensitive to cold temperatures. Cold temperatures can significantly reduce the growth rate of plants, or it may kill them. Watermelon seeds should be planted in a garden that gets plenty of direct sunlight and at least two weeks after the last frost. Daytime temperatures need to be above 77 degrees Fahrenheit to ensure optimal seed germination.
Prevention/Solution
In the event of unexpected cooler weather, there are some things that can be done to protect watermelon seedlings. Using a plastic mulch around the seedlings can warm the soil temperature as much as 10 degrees Fahrenheit. Increasing the soil temperature this much can reduce the time to harvest by two to three weeks. In addition, the fruit may be larger and sweeter.
Considerations
Because of the longer growing season required by many varieties of watermelon to produce mature, sweet fruit, it is unlikely that seeds harvested from a watermelon you recently enjoyed will have the opportunity to grow and mature. There are exceptions to this: living in a year-round warm climate or enjoying a watermelon very early in the growing season. Instead, consider cleaning the seeds with water only and air drying them on a towel. Save the seeds to plant the next growing season. Stored properly, watermelon seeds are viable for up to four years.
Time Frame
If you live in a climate with a shorter growing season, start seedlings indoors before the planting season. Using plastic mulch and a loose covering over the watermelon plants can help trap heat and encourage plant growth.