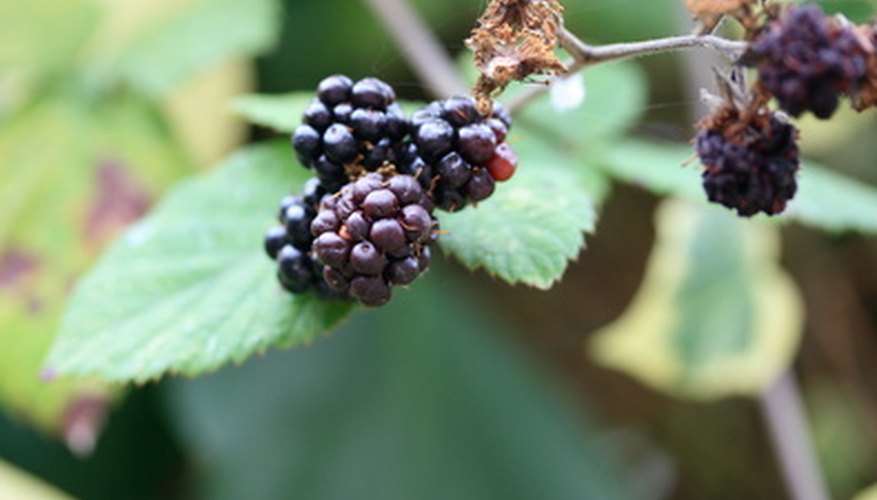 blackberries image by Alison Bowden from <a href='http://www.fotolia.com'>Fotolia.com</a>
Blackberries grow wild throughout the Pacific Northwest and parts of the south, but are dwindling due to development. They grow in almost any soil as long as it's well drained. They prefer sun, but will fruit in shade as well. Some blackberries, including loganberries, marionberries and boysenberries, grow on trailing canes, while others have stiff, erect canes. Thorned varieties are more cold hardy, but you can grow thornless varieties in cold climates by mulching the canes. Blackberries are biennial, with canes that produce the second year of growth then die.
Inspect the ground for old wood, especially if the blackberry patch is neglected or wild. You'll notice small, dry sticks lying on the ground or protruding from the ground. Pick up the sticks. They are light-weight and break easily.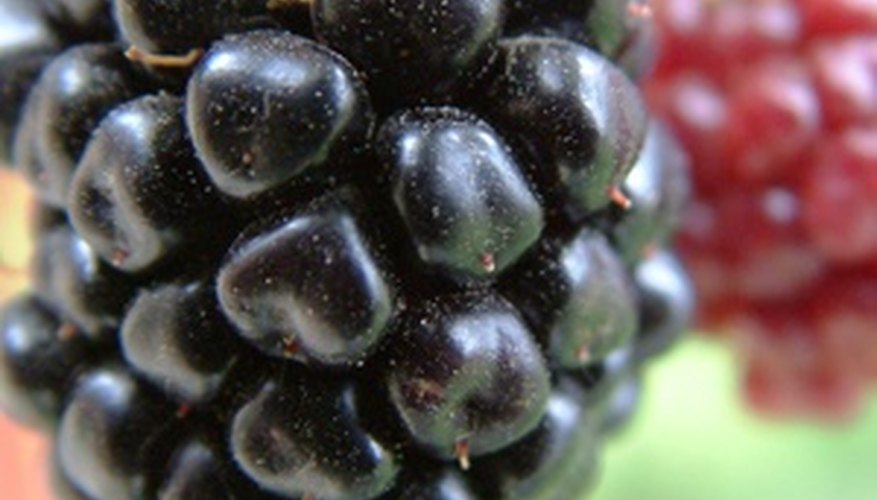 blackberry image by spectator from <a href='http://www.fotolia.com'>Fotolia.com</a>
Look at the sprouts emerging. You'll notice bright green, stick-like canes, about 1/8-inch in diameter. Blackberries spread rapidly, so you may notice many canes sprouting. In cold climates, expect to see blackberry sprouts about two weeks before the last expected frost.
Inspect the leaves. At first, the sprouts will have only two or three small leaves. They are bright green and similar to raspberry leaves. They have toothed-edges and are an elongated-oval shape, pointed at the tip. Blackberry leaves are somewhat thick and feel crinkly.
Tips
Renovate an old, neglected blackberry patch by cutting all the canes to the ground in the fall. You'll have a small harvest the following year, but a healthier, more productive patch in the future.

Don't plant blackberries or raspberries where strawberries, tomatoes or peppers have grown within the last two years. These plants are vulnerable to the same diseases and you may infect your blackberries.

Blackberries benefit from staking or trellising, particularly trailing blackberries.

Watch for small white flowers, followed by green fruit that turns red, then dark purple.