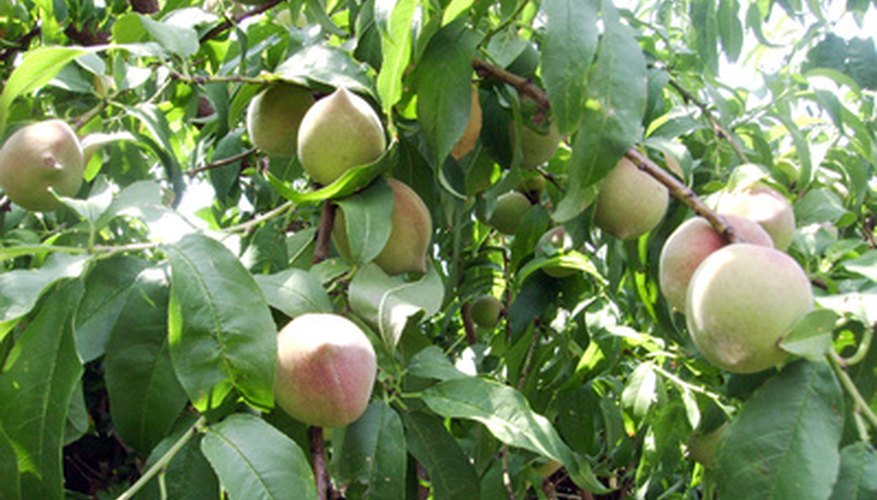 The ideal time to move a peach tree (Prunus persica) is after it has reached dormancy in the early part of December. This will ensure that its root system has time to become well established before spring, when new growth takes place. A peach tree will become dormant in the fall season and in the process lose its leaves. This should serve as an indicator that it is safe to transplant the peach tree.
Clear the transplanting site of grass and other debris such as rocks and sticks. Test the soil with a soil testing kit or take a sample to a county extension office. Ideally, the soil should have a pH level of 6.5. Add any nutrients to the soil as suggested by the results of the test.
Break up the soil, using a hoe, to a size of at least 10 feet by 10 feet to loosen it in preparation for the tree. Dig the hole deep and wide enough to accommodate the entire root system comfortably.
Dig up the peach tree up from its original location, starting at least 3-feet out from the base of the trunk. Work around the tree, digging deep enough to encompass as much of the root system as possible. Do not to damage the roots. Carefully lift the tree out of the hole and transport it to the new hole.
Move the peach tree to a location that receives full sunshine and has good drainage. Be sure to plant the tree within 24-hours of removing it from it's original home.
Place the peach tree into the new hole. Add the soil around the roots, making sure to bury it at least as deep as it was in its previous location. Firm the soil with the back of a shovel or by carefully patting it down with your feet. The soil around the tree should be level with the surrounding earth.
Add enough water to the tree area to soak the soil without creating standing water.