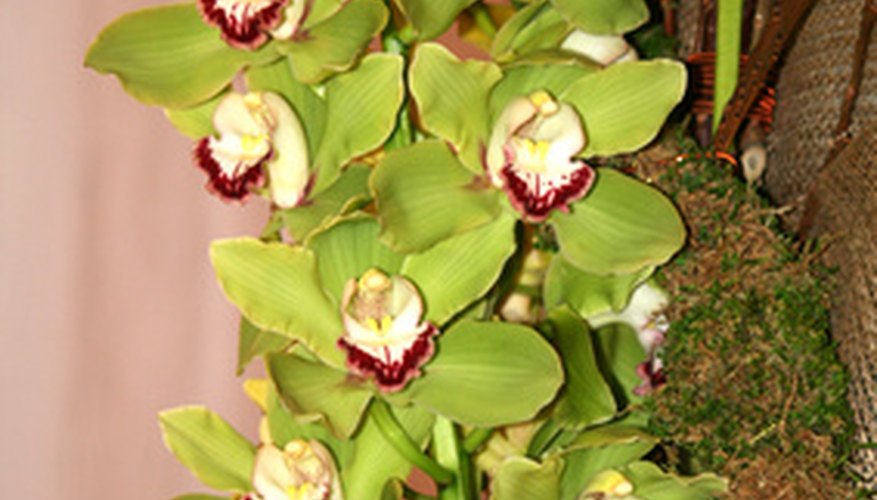 Floral arrangements take many shapes, from tiny round nosegays to huge upright displays in hotel lobbies to weddings where the flowers are set atop crystal pedestals and cascade down to the tabletops. The long and low fall of a cascade is elegant but requires practice and skill to achieve; garlands are another method of achieving a cascading floral arrangement.
Garlands
Garlands are made using a rope as a base. The flowers are wired in bunches or mini-bouquets and then wired and taped to the rope. A garland can be draped over a door or window, creating a long and low fall from the top of the window to the floor. Flowers should be sturdy and long-lasting as there's no water source for a garland (unlike an arrangement in floral foam or in a vase). Good choices for a garland are roses, chrysanthemums and carnations.
Pedestal Arrangements
A flower-filled vase can be placed on top of a pillar. The flowers then cascade from the vase and around the pillar. In most cases, the flowers will have to be taped to branches that fall and curl around the pedestal. There's no water source for these flowers, so use varieties that will stay fresh out of water for the duration of the display. The flowers in this arrangement have a long fall from the top of the vase to a low position at the end of the pedestal, usually just above ground level.
Stacked Arrangements
Flower stems put a limit on how high an arrangement can be, unless the arrangement is stacked. How tall the arrangement is determines how long the fall is. For example, most roses don't have stems longer than 30 inches. If the arrangement is to be taller than that, it has to consist of one arrangement stacked on top of another. The two arrangements are stabilized by the use of an internal structure to hold water-soaked floral foam.
Wire the stems of certain flowers with pliable stems—the wire allows the flowers to curve by putting gentle pressure on the stems. Hold the flower stem in one hand. Place the end of the wire in that hand against the stem with your thumb. Use your other hand to wrap the wire around the stem at 1-inch intervals. Don't cut the wire until you reach the end of the stem.
A long fall of flowers can be created by placing a floral arrangement at the top of the structure or form. Place additional flower arrangements lower on the form. The flowers from the top arrangement will cascade down to reach the beginning of the arrangement below it. This arrangement works especially well with flowers like orchids, which have a natural cascading form. It also works for greenery such as ivy and asparagus fern.