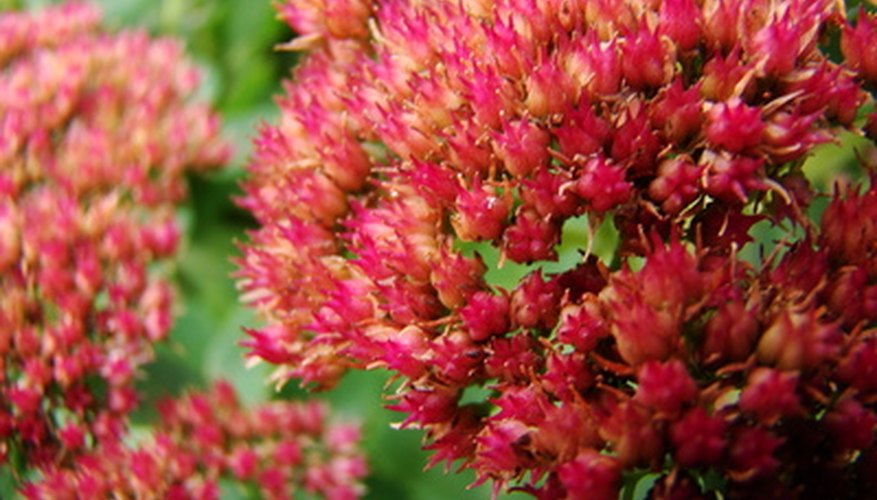 Also called stonecrop, sedum plants handles sunny spots with dry, alkaline (pH above 7.2) soils that defeat many other garden performers, according to Colorado State University Extension's Planttalk. Growing anywhere from a few inches to 2 feet high, these succulents have thick stems and leaves in shades of green, gray or red. Irresistible to butterflies, their blooms can appear in spring, summer or fall. The spent flowerheads add texture to winter gardens.
Sedum 'African Sunset'
A mid-summer to early fall bloomer, sedum (Sedum) 'African Sunset' typically forms an erect, 12- to 18-inch clump of deep purple, smoothly textured foliage. Between July and September, its red stems bear flower clusters of an even deeper red. A largely pest and-disease-resistant plant, this sedum tolerates winters in USDA plant hardiness zone 3, where temperatures approach minus 40 degrees Fahrenheit. Butterflies flock to its nectar. 'African Sunset' has the most impact planted in groups, advises the Missouri Botanical Garden. It likes full sun and averagely fertile, well-drained soil.
Sedum 'Frosty Morn'
Another sedum hardy to zone 3, 'Frosty Morn' is a low, 9- to 12- inch plant with a similar spread. Its variegated leaves have green backgrounds with white edges. In August and September, Frosty Morn has clusters of white--or faint pink where summers are cool--flowers.This small butterfly magnet makes an appealing edging or accent plant or rock garden addition. It likes full sun and moist, averagely fertile well-drained soil. Plants in excessive shade develop weak stems, advises the Missouri Botanical Garden.
Orange Sedum
Orange stonecrop (Sedum kamtschaticum var. ellacombeanum), a creeping sedum, grows just 4- to 6- inches tall and up to 18 inches wide. A somewhat open habit limits its use as a ground cover, notes the Missouri Botanical Garden. It's a good choice, however, for brightening slopes and border edges. Nodding stems of brilliant yellow flower clusters have butterflies hovering above its yellow-green foliage in May and June. Its autumn leaves are varying tones of red. Hardy to zone 3, orange sedum likes full sun and well-drained, moist soil.
Sedum 'Garnet Brocade'
A late flowering plant, sedum (Sedum) 'Garnet Brocade' is a tidy, mounding plant with burgundy foliage up to 14 inches high and 18 inches wide. Its flat clusters of August to October blooms add rich, garnet red tones to the fall landscape. Bees as well as butterflies find this zone 3 hardy sedum irresistible, according to the Missouri Botanical Garden. Its unusual coloring merits a highly visible garden position. Like the other sedums, it does best in full sun and well-drained soils.