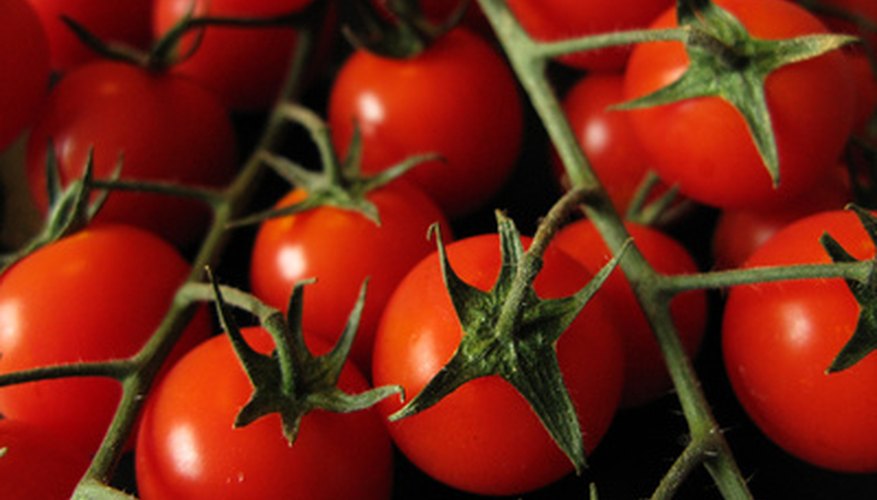 As far as we know, tomatoes came from the tropical regions of Central and South America, possibly Peru. They do not tolerate cold temperatures, so they die back in fall, which makes it necessary to plant new tomatoes every spring. If you want to grow tomatoes in Southern Florida, the Southwest or the deserts of Southern California, where the summers are hot, special tropical tomatoes that withstand high temperatures are a wise choice.
Cherry Tomatoes
The cherry types of tomatoes can withstand high tropical temperatures because they ripen more quickly than larger varieties of tomatoes. Some of the cherry tomato types that can be grown in tropical regions include Sweet 100, Black Cherry, Chadwick, Peacevine, Thai Pink, Maglia Rosa and Prize of the Trials. Because no frost occurs in tropical areas, cherry tomato plants can live longer than their normal spring through fall lifespan in climates where winters are cold. An added bonus to the cherry types is that if you forget to pick some of them, they easily self-sow and you might be surprised by tomato plants popping up in unexpected parts of your garden.
Plum and Paste Tomatoes
Plum and paste types of tomatoes are smaller varieties that do well in tropical climates. The varieties known as Black Plum, Ropreco, San Marzano, Roma and Amish Paste typically have thicker skins than many larger tomatoes, which helps them to resist the sunburn that thinner-skinned tomatoes can develop from long hours of strong sunlight.
Solar Set Tomato
This tomato was developed by the University of Florida to provide home gardeners with a large tomato that withstands high temperatures. Fruit grows to 9 oz. and the determinate plants remain compact. When most other types of tomatoes will literally cook on the vine and stop setting fruit when the mercury tops 90 degrees F, the Solar Set tomato seems to thrive on the heat. Plants are also resistant to the wilt types of fungal diseases that can afflict tomato plants.
Champion
Although Davis, California, is not in the tropics, the summer temperatures can rise to triple digits much of the season. The Redwood Barn Nursery, located in this Central Valley town, recommends the Champion tomato as one that is very heat tolerant and that performs well for them. They say it is the largest tomato they have found that continues producing a good quantity and quality of tomatoes during the long, hot summers of Davis. Tomatoes typically weigh 8 to 12 oz. Because the plants are determinate, most of the crop occurs in mid-summer, but this variety will continue producing smaller tomatoes until first frost.