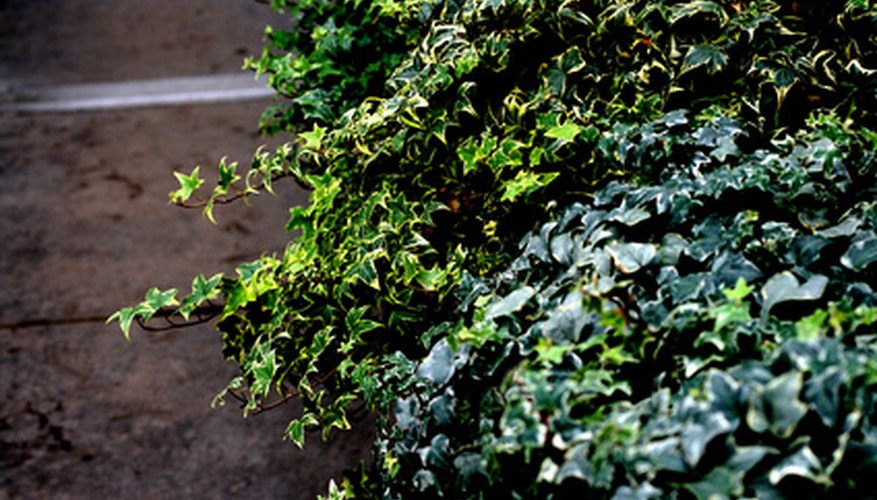 Winter ground cover plants can maintain a landscape's appeal even when its lawn grass is parched and brown from cold. Ivies, for example, handle the winter's bite while adding form and texture to otherwise barren garden areas. Many broadleaf evergreen ground covers are four-season performers, with green or variegated year-round foliage, spring or summer flowers and colorful fruit that lasts through fall and winter. Some also supply wildlife with essential shelter and food.
Wintercreeper
Wintercreeper (Euonymous fortunei) "Variegatus" is a showy, mounding evergreen ground cover. Its dense, woody stems grow from 6 to 9 inches high with a spread ranging from 2 to 4 feet. Variegatus' chief ornamental feature is its shiny, white-patterned green foliage. The oval leaves are up to 2 inches long. The plants occasionally produce small, white June flowers.
A vigorous spreader, wintercreeper can become invasive. Where it has room to spread, it makes an attractive ground cover for both sunny and shady garden spots, according to the Missouri Botanical Garden. It's also an answer to slope erosion. Not tolerant of wet locations, it performs best in averagely fertile, moist, well-drained soil.
Partridge Berry
Partridge berry (Mitchella repens) is a ground-hugging, 2-inch-high plant with a 1-foot spread. Sturdy enough for USDA zone 3 winters and temperatures approaching minus 40 degrees F, partridge berry has white-veined, deep green foliage. Its tiny, glossy round leaves make an attractive backdrop for the plant's spring to midsummer blooms. Between May and July--depending on location-- fragrant, funnel-shaped white blooms appear on its stem's ends.
Each pair of flowers produces a single berry that matures to bright red in late summer, notes the Missouri Botanical Garden. The fruit frequently remains on the plants to brighten gardens all winter. While slow growth may make partridge berry for large areas, it's very attractive in rock gardens at around water features. This ground cover likes fertile, averagely moist, well-drained soil and partial to full shade.
Common Bearberry
Common bearberry (Arctostaphylos uva-ursi) "Big Bear" is a mat-forming, woody evergreen growing less than 1 foot high, but spreading as much as 6 feet. Rooting where its branch nodes touch the soil, it has exfoliating reddish bark. Its deep green, glossy leaves take on a reddish cast in the winter. Big bear blooms in April and May with clusters of pinkish-white flowers. The brilliant red berries that follow provide food for birds, bears and other wildlife from July to winter's end, while bringing color to winter gardens.
This exceptionally hardy plant tolerates winter temperatures into zone 2, where they can drop as low as minus 50 degrees F. Big bear, however, may not be appropriate for areas with humid, hot summers, advises the Missouri Botanical Garden. It thrives in full sun and infertile, sandy acidic soil (pH below 6.8.).