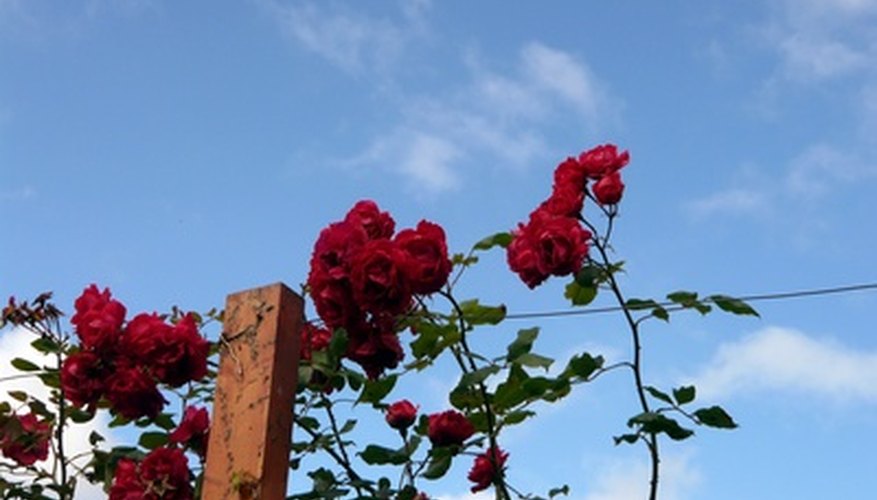 Roses come in many different classifications including whether or not they climb and, if they do, how quickly they ascend nearby structures. Identify which roses have fast growth rates with a climbing habit, as well as their particular characteristics that set them apart from other climbers. Add climbing roses to the garden for colorful, aesthetically appealing flowers that will ascend whatever structure you choose.
Ramblers
Climbing roses exist as large-flowered climbers, everblooming climbing roses, hybrid tea climbers, climbing floribunda, climbing polyanthus, trailing roses and ramblers, according to the University of Illinois Extension. All climb, but the ramblers exhibit a rapid growth rate while other types like large-flowered varieties are slow to grow, according to the Clemson University Extension.
Climbing
Fast-growing climbing roses attach themselves to structures for ascension by exhibiting long shoots that a grower is able to train on fences, trellises, posts or other types of structures. With their fast rate of growth, ramblers can develop as many as 20 new feet of growth per season, states the Clemson University Extension. All climbers are generally vigorous plants, but ramblers are known for their hardiness, keeping them climbing when other plants may suffer from the cold.
Features and Bloom Time
Rambler climbing roses bloom once a year, either during the end of spring or early in the summer season. Roses are small, particularly when compared with the larger blossoms of other varieties like large-flowered climbers, and they display their flowers in clustered bunches. Blossoms generally grow up to 2 inches in diameter in solid and blended shades of red, pink orange and white. Foliage is green and glossy.
Pruning and Positioning
Climbing roses need pruning for an uninhibited growth rate. For ramblers, since they bloom once per season, prune after blooming is over. Remove young or weakened canes, diseased plant parts and dead tissue. Pruning as well as appropriate positioning of ramblers allows your roses to breathe. Air circulation is also created by positioning your supportive structure a few inches away from the fence, post or wall you want to cover; these surfaces naturally retain heat that may severely damage your climbing roses, according to the Washington State University Spokane County Extension.
Problems
Ramblers are considered an old-fashioned rose. Roses developed before 1867 are considered old, whereas those developed on or after 1867 are referred to as modern. Ramblers are highly susceptible to mildew disease, which affects foliage. Referred to as powdery mildew, this fungal infection occurs more on ramblers than many other rose types, displaying a gray powder-like substance on leaves that resembles mildew, as suggested by its name. For control, avoid overhead irrigation and excessive moisture in which the fungi thrive; apply an appropriate fungicide for severe infection, advises the University of Missouri Extension.