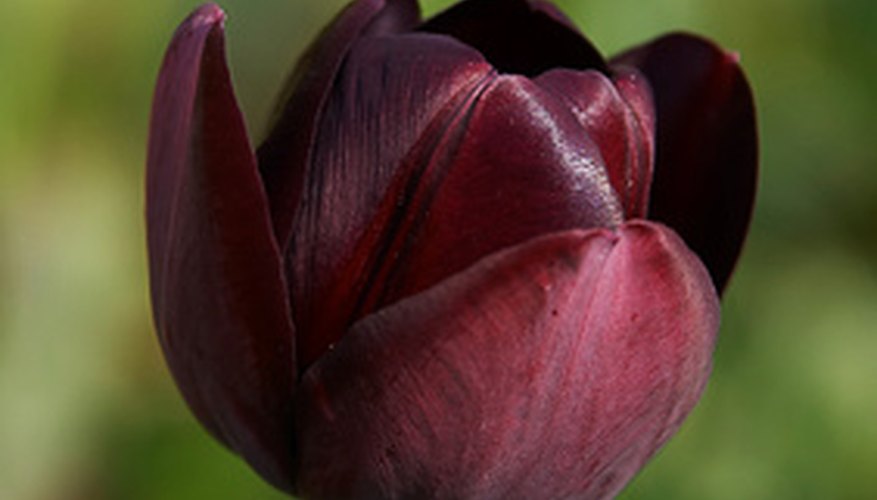 Tulips are renowned throughout the world for their brightly colored blooms that dress up gardens in the spring and early summer. Apart from the more typical colors, tulips can also be black. These are rare hybrid flowers that are never actually true black, but wine red or deep purple. The Flowers and Plants Association in the United Kingdom refer to black tulips as the "Holy Grail" of flower breeders all around the world.
Tulip History
Originally a wild flower in Central Asia, the Turks were the first to cultivate tulips in 1000 A.D. The name "Tulip" stands for the Turkish word "turban" because of the closed arrangement of petals that resemble it. The beautiful flowers were then introduced by biologist Carolus Clusius to the Netherlands and Western Europe in the 17th century, after which they gained popularity as a garden accent and product for medicinal use.
Tulip Varieties
According to The Plant Expert, over 3,000 registered varieties of tulips exist in the world today. Each variety has a different shape, height and color. The different types are categorized into 15 groups in accordance to petal color, shape and bloom time. Although Holland grows and exports the majority of these flowers, tulips are now also grown throughout the world.
Black Tulip
According to the Flowers and Plants Association, just like black roses, black tulips too have invoked curiosity and attention for centuries. In 1853 French author Alexandre Dumas published "The Black Tulip," a romance set in the aftermath of the Dutch "Tulipmania" of the 1730s, that involves a competition to create the first black tulip. No truly black tulip has yet been produced, according to The Bulb Project, but 'Black Parrot,' introduced in 1937, is among the first to be considered black. Belonging to the Liliaceae family, these hybrid tulips bloom in mid to late spring and reach 17 to 18 inches in height.
Types
Black tulips fall into two categories--garden and species tulips. There are more than 100 species of black tulips. Most cultivated black tulip varieties include 'Queen of the Night' (which is actually deep rich velvety maroon) that blooms end of spring to reach heights of 34 to 36 inches; 'Black Jack,' which blooms in mid-spring and grows up to 25 inches tall; and 'Paul Scherer,' 'Black Horse' and 'Greuze,' which all grow 30 to 32 inches tall and bloom in May. 'Ebony Queen,' 'Black Diamond' and Black Hero' are three other black tulip cultivars.
Uses
Online resource Gardening-guides states that the black tulip is ranked four on Americas's top 10 favorite flowers list. These flowers form beautiful arrangements that form a striking and immediate impact. Use black tulips on their own, or mix with other tulips, daffodils, Calla lilies, white roses or tulips for varied contrast. These hybrid blooms also make elegant round bouquets lined with lilies or peonies. When planting black flowers in the garden, make sure to provide a light backdrop or the plant may be "lost," said David Jewell of the Royal Horticulture Society in a 2005 article on black blooms in London's "Guardian" newspaper.
Resources