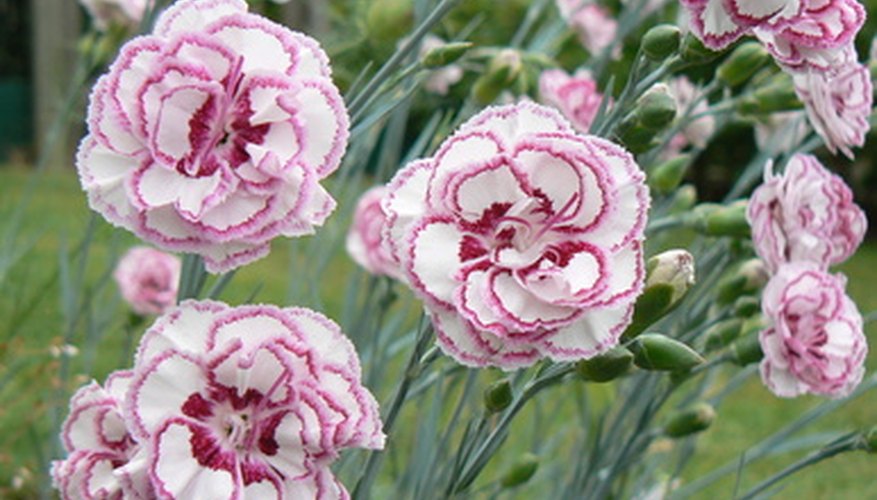 While color, form, height and texture are important considerations in your choice of garden flowers, don't overlook the additional enjoyment you'll get from blooms that smell good. Planting fragrant flowers near windows, patios or a pool will perfume the air where you can most enjoy it. Many shrubs and perennial plants have the good looks to match their sweet or spicy scents. Bring their cut blooms indoors to brighten and refresh your home.
Fragrant Columbine
Sweet-scented columbine (Aquilegia fragrans) is a delicate, spring-blooming perennial native to the mountain meadows of India and Pakistan. Standing 18 inches high and up to 1 foot wide, this graceful plant adds a honeysuckle fragrance to the April and May garden, according to the Missouri Botanical Garden. Hardy to USDA zone 5, where winter temperatures approach minus 20 degrees Fahrenheit, sweet-scented columbine has fernlike, green foliage. Its single, yellow and white, spurred blooms on nodding stems may have blue tones. Removing the spent flowers encourages longer bloom. This plant likes full sun to partial shade and fertile, consistently moist soil. It suffers in poor drainage and clay.
Lily of the Valley
Lily of the valley (Convallaria majalis) is a harbinger of spring in countless home gardens. With a toughness that belies its dainty looks, this perennial survives to USDA hardiness zone 3 and temperatures below minus 30 degrees Fahrenheit. Only 6 to 12 inches high, this vigorously spreading perennial makes an excellent shady area groundcover even when not in bloom. Appearing in April or May, its sweetly fragrant, white bell-shaped blooms line delicate stems above arching, deep green leaves. Lily-of-the-valley performs best in rich, consistently moist soil.
Carnation 'Brilliant Star'
A small, mounding perennial, carnation (Dianthus), Brilliant Star grows 6 to 9 inches high with a 1-foot spread. Blooming from mid-spring until late summer, it has narrow, deep green, lance-like foliage and short stems. Between May and August, its maroon-centered, immaculate white double blooms fill the surrounding air with a scent of cloves. Plants like rich, alkaline (pH above 7.2), well-drained loamy soil and full sun. They flower best where summers are cool, advises the Missouri Botanical Garden. Brilliant Star handles USDA hardiness zone 4's temperatures that can go close to minus 30 degrees Fahrenheit.
Carolina Allspice
Although the deciduous shrub Carolina allspice (Calycanthus floridus) grows wild in the southeastern United States, it handles USDA hardiness zone 4 winter temperatures close to minus 30 degrees Fahrenheit. Reaching from 6 to 10 feet high and up to 12 feet wide, Carolina allspice has glossy foliage with deep green surfaces and lighter undersides. The leaves bring yellow fall color to the garden. Depending on location, these flowers bloom between April and July. Carolina allspice has reddish flowers fragrant with mingled scents of pineapple, banana and strawberry. Bruising its leaves releases even stronger fragrance. Happiest in rich, well-drained loam, it grows in full sun to partial shade.