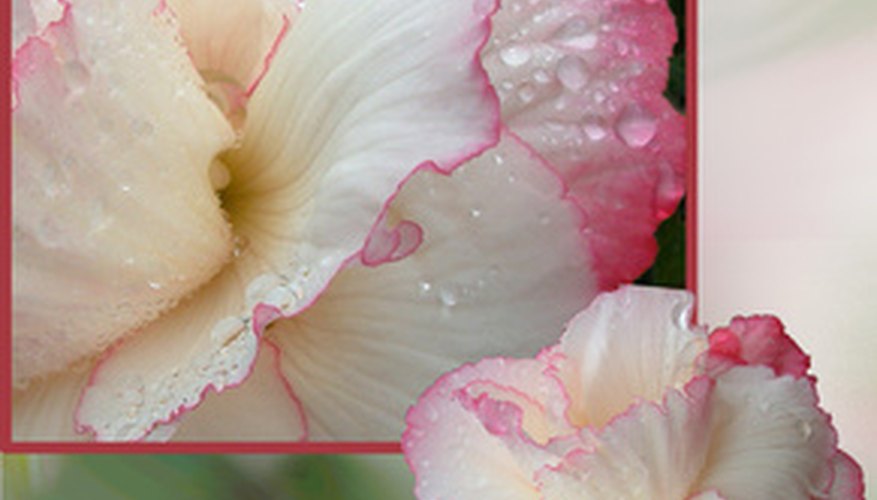 begonia (raspberry ripple} image by maureen dainty from <a href='http://www.fotolia.com'>Fotolia.com</a>
Begonias are perennials or annuals native to the tropics. The genus and common name is the same--Begonia--and the genus is part of the Begoniaceae family. There are over 1,000 species of begonias, some of which are popular as garden or conservatory plants. Among the best-selling varieties are the Rex types, with multicolored leaves; hybrid tuberous types, which feature large, showy flowers; and annual begonias, long used as bedding plants. Described by Linnaeus in 1753, the family and genus were named after the French Admiral Michel Begon (1638-1710), a plant lover who also served as Governor of Canada. Begonia flowers have historic and artistic meanings.
Meaning: The Language of Flowers
The tradition of "the language of flowers," which assigns specific sentiments and meanings to various types of flowers, goes back centuries in China and the Middle East. It reached a high point in popular culture during the Victorian era, when Queen Victoria became an enthusiast. In this tradition, begonia flowers meant "be cautious" or attributed "a fanciful mind" to the sender or recipient of the blossoms.
Begonias: Artistic Meaning
Begonias have been a popular artists' subject, especially in the late 19th century. Colorful begonia leaves were often depicted on pieces of Majolica, a type of cheerful, brightly glazed pottery. Botanical prints of begonia flowers were featured in horticultural magazines and books. One of the most popular English botanical magazines, Curtis's Botanical Magazine, launched in 1787 and still published, has featured illustrations of over 100 begonias since its inception.
Meaning in the Garden
Late Victorian gardeners created elaborately patterned bedding out schemes, sometimes using flowers that were raised in glass houses and changed out seasonally. Annual flowering begonias were often a part of these beds, which were seen as a testament to the gardener's taste and sophistication. Today, begonias are still used in mass plantings, but now a display of begonias is less about taste and fashion and more about using easy-to-grow specimens to provide blocks of seasonal color.
Begonia Societies
Lovers of begonias have long formed societies to exchange information, photos and plants, as well as staging begonia shows. Societies also register begonia varieties as breeders introduce them. The American Begonia Society, founded in 1932, has many chapters throughout the United States and publishes its own newsletter, "The Begonian." The National Begonia Society, founded in 1948, is composed of British begonia aficionados.
Considerations
The large-flowered tuberous begonias (Begonia tuberhybrida) are the most celebrated flowering types. They are the result of extensive hybridizing efforts that began in the late 19th century and continue to the present day. Unlike other popular flowers like lilacs, roses and lilies, begonias have never been used in herbal medicine, cosmetics or for culinary purposes.
Resources