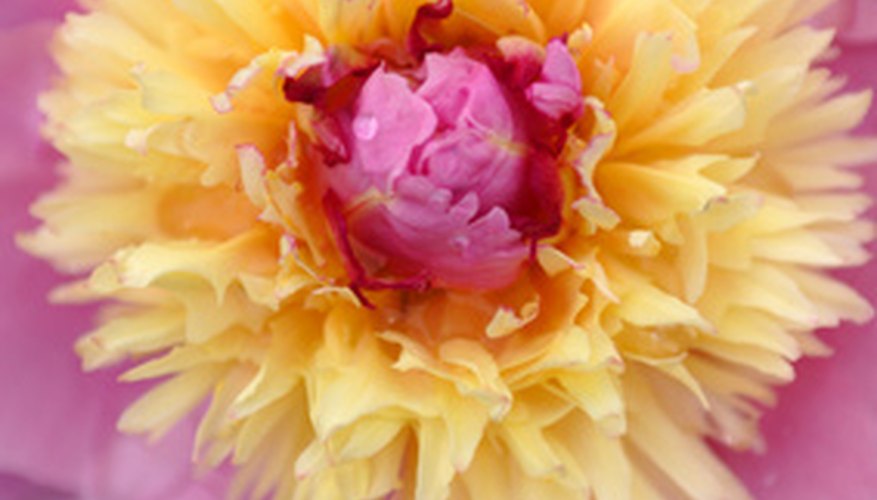 Of the five peony flower forms, single-formed flowers are the simplest. Wild peonies, the ancestors of cultivated varieties, have five petals around a group of center stamens. Cultivated single peonies, however, may have as many as 12 petals around central stamens with anthers (pollen bearing organs), says former Canadian Peony Society president Reiner Jakubowski. Unlike those of double peonies, single peony petals are easily distinguishable from their stamens.
Peony 'America'
Like most peonies, 'America' handles temperatures in USDA plant hardiness zones 3 to 8, with winter temperatures of minus 40 degrees Fahrenheit and above. With a height and spread of up to 3 feet, it has single, brilliant red blooms with bright yellow stamens and a faint fragrance. The flowers are even more dramatic against the peony's deep green foliage. They make outstanding additions to cut flower arrangements, according to the Missouri Botanical Garden.
Peony 'Coral 'n' Gold'
Classified as a single-flowering plant, peony (Paeonia) 'Coral 'n' Gold' actually has a higher number of petals than most singles. It resembles a semi-double peony. With yellow stamens and coral petals, it stands 30- to 36-inches high. Like other peonies, Coral 'n' Gold is a spring bloomer. It likes well-drained, fertile soil enriched with compost as needed, advises the Missouri Botanical Garden.
Peony 'Green Lotus'
Peony (Paeonia lactiflora) 'Green Lotus' is a small variety, reaching from 24 to 30 inches high, with a similar spread. Its yellow-centered spring flowers have soft, lime-colored petals with striking hints of pink, notes the Missouri Botanical Garden. Their curved, slightly ragged form is similar to that of cactus dahlia blooms. Green Lotus--and all peonies--grow best in full sun to partial shade and well-drained soil.
Peony 'Mischief'
Reaching up to 3 feet tall, peony (Paeonia lactiflora) 'Mischief' has pale pink flowers and yellow stamens that bloom against the backdrop of glossy, deep green foliage. Flowers last between a week and 10 days, notes the Missouri Botanical Garden. Mischief brings butterflies to the garden. While the sweet sap that oozes from buds on this and other peonies attracts ants, the insects are harmless.
Peony Obvata
An unusual, single-flowering peony variety native to China is Paeonia obvata. Seldom exceeding 2 feet tall and wide, this peony is hardy only to USDA zone 5, with winter lows between minus 10 and minus 20 degrees F. Its faintly scented spring blooms may be pinkish-purple or white above grayish-green leaves. Plants of either color produce summer-ripening seedpods that open to reveal black seeds on brilliant red stalks. This peony's foliage keeps growing until the seeds mature, advises the Missouri Botanical Garden.