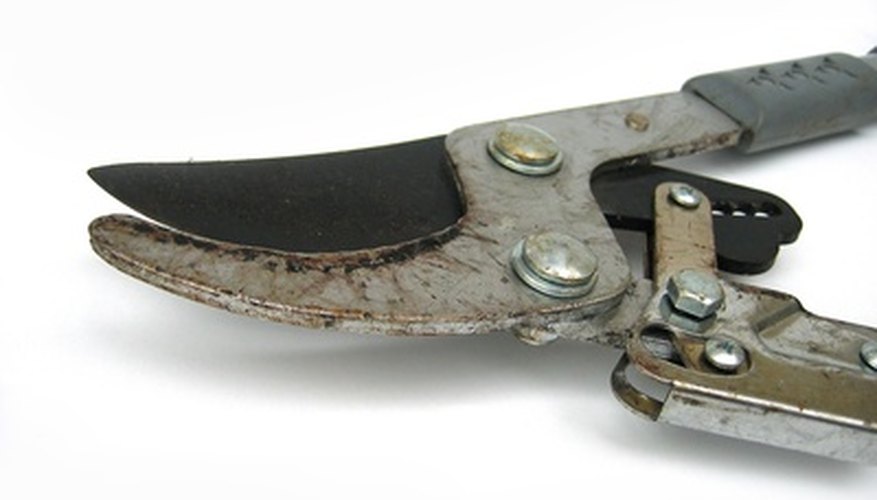 loppers image by Edsweb from <a href='http://www.fotolia.com'>Fotolia.com</a>
Pruning any type of tree or shrub can be a messy process; and since most pruning is done for beautification, it's important that you clean up the area after pruning as quickly as possible so mowing and other general maintenance can be done. Another reason to clean up after pruning is to ensure diseases don't spread back to the plant after you've cut away diseased material. While large pruned pieces are generally simple to collect, it can be harder to catch all of the twigs, leaves and dropped stems that fall to the ground. Using a drop cloth practically eliminates bending and picking, and ensures you'll get every bit of the matter you prune.
Spread your drop cloth out on the ground. Stand at one of the long sides of the cloth and find the center along the edge. Hold the edge's center point with your hand.
Bring the center portion of the drop cloth to the base of the plant you intend to prune. Wrap the rest of the edge around the base of the tree. Secure the cloth where it connects around the base of the plant with a binder clip.
Spread out the remainder of the cloth away from the base of the plant as far as you can so long as the cloth still connects around all sides of the plant, similar to a tree skirt. Clip the overlap of the drop cloth ends every foot with a binder clip.
Prune around the plant as desired for shape and health, and to promote growth. As you work, watch your footing so you don't step on any of the binder clips, but move freely when you are on just the drop cloth.
Remove any binder clips after pruning is complete and bring the cloth away from the plant in the reverse order of how you prepared the cloth. Keep any dropped twigs, limbs, berries or nuts on the cloth as you bring it out from under the plant and to an open area of ground.
Grip the corners of the cloth, with a friend on the other side, to shuffle the dropped pruning contents toward the center of the cloth. Once the clippings are in the center of the drop cloth you can collect and dispose of them as needed.
Things You Will Need
Drop cloth(s)

Binder clips
Tip
If the canopy, or drip line, of the plant is large, then use more than one drop cloth. Just be sure to clip the cloths together so there aren't any gaps of ground between the cloths.