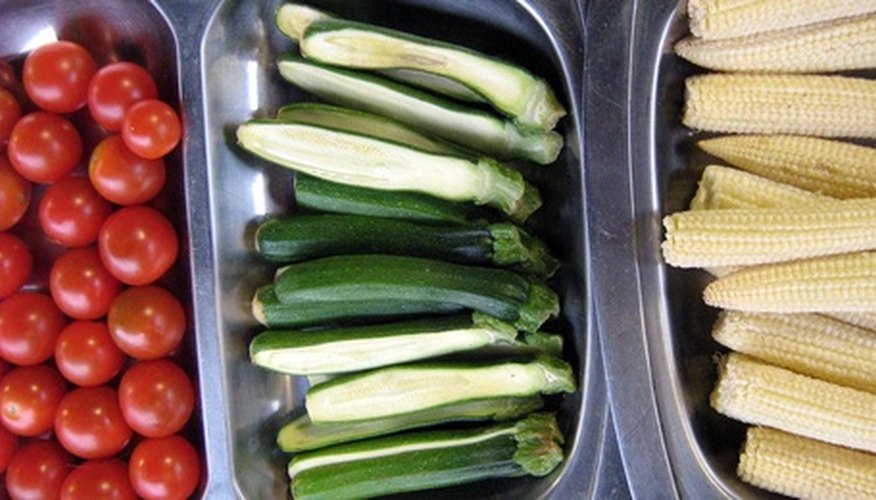 Young vegetables are more tender than their older brothers. Some varieties have been bred to remain small, while other miniature vegetables are standard varieties that you harvest small. The Texas A&M University website reports that many miniature vegetables are varieties that have been "cultivated for perfection." Miniature vegetables have the same nutritional value as their larger counterparts; 45 to 50 kinds of seeds are grown and sold in the United States.
Baby Corn
If you have ever marveled at the tiny cobs of corn included in some salad bars and Chinese cuisine, these are typically from varieties that are harvested early. The Oregon State University Extension website suggests planting the seeds of any type of regular corn or super sweet corn variety and harvesting young ears when they are 2 to 4 inches long and no more than 2/3 inch in diameter. Keep a close watch on your developing ears because corn grows quickly and what looked like baby corn one day might be too large soon after. Experiment by starting to pick ears when the silk first begins to form.
Pumpkins
The white color of the "Baby Boo" miniature pumpkin gives it the "Boo" in its name because it resembles a Halloween ghost. It's also white inside, but this small squash is usually reserved for fall centerpieces and arrangements. "Jack Be Little" is the name of an orange miniature pumpkin that grows to no more than 3 inches in diameter and 2 inches high. These miniature pumpkins grow from special seeds on vines similar to large pumpkins; they also ripen in fall. Both miniature varieties produce six or seven pumpkins on vines that travel 4 or 5 feet, according to the Burpee Seeds website. They require full sun and will reward you with a harvest 95 days after you direct sow your seeds in rich, well-drained soil. You can harvest the seeds from your miniature pumpkins, dry them in a warm, dark, dry well-ventilated place for one to two weeks and then plant these seeds the following year.
Baby Bok Choy
Bok Choy is a staple leafy green vegetable in the cuisine of many Asian countries. The Washington Post reported in 2004 that baby bok choy is more tender and milder tasting than its larger cousin. This miniature vegetable is also easier to cook than the larger varieties because you can cook the small heads whole without separating the stems, which take longer to cook. The miniature variety is also more economical than the larger variety because nearly the entire plant is edible; many people tend to discard the tougher lower portions of the larger varieties' stems. Purchase seeds of baby bok choy from specialty seed catalogs.
"Little Finger" Carrot
The Ed Hume Seeds website claims the "Little Finger" carrot is the most popular of the miniature carrot varieties. This variety is a dwarf form of the larger Nantes carrot and is ready to harvest when carrots are 2 to 3 inches long; if you wait until they grow larger, they can become bitter and woody. The young carrots are tender and sweet, according to Hume Seeds, and are good when eaten fresh, pickled or canned.