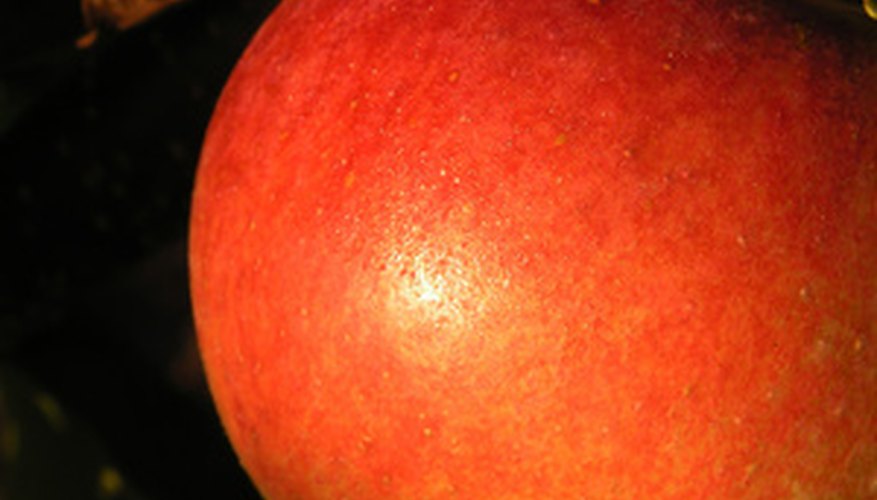 James Stark moved his family to Missouri from Kentucky in 1816, bringing with him scions of the apple trees he loved from his former home. Stark planted an apple orchard and the rest, as the saying goes, is history. In time, his company was born; he named it Stark Bro's Nurseries and Orchards Company. Credited for introducing the classic Red Delicious apple, Stark Brothers stopped selling fruit trees in 2001.
Red Delicious
In 1893, James Stark exclaimed, "My, that's delicious," when he first tasted the Red Delicious apple, and the moniker "delicious" stuck. The website BestApples claims this is "America's favorite snacking apple," and it is likely the most common apple variety sold at grocery stores throughout the country. The Red Delicious is heart-shaped, deep red and sometimes displays stripes. It's very crunchy and has a tart, yet sweet flavor. The Red Delicious apple is one of the most common varieties grown in Washington State and has been since the 1920s. This variety was known as "Hawkeye" before James Stark renamed it.
Golden Delicious
1914 saw the introduction of the Golden Delicious apple from Stark Bro's Nurseries and Orchards Company in Missouri. This apple is quite different from the Red Delicious, despite its similar name, according to NYAppleCountry.com. Not only is the skin color greenish-golden with a hint of pink, the shape is more globe-like than the Red Delicious. The flesh is mildly sweet, and the apples is often used in pies and other baking. NYAppleCountry.com also reports that when you make a pie from this apple, you can cut down on the amount of sugar the recipe calls for because it is so sweet. It ripens in fall.
Red Rome Beauty
NYAppleCountry.com touts the tart-tasting Red Rome Beauty apple as a "superb" cooking apple that keeps its shape when baked whole. The flesh is firm and white to slightly green in color. It is said to make excellent applesauce as well as pies, and it also freezes well. Originating in Ohio in 1816, this apple is widely grown in New York State today. It ripens from September through late October.
Starkspur Winesap
The Starkspur is one of the Winesap types of apples, which are described as "tried and reliable all-purpose" apples on the Dig the Dirt website. The Winesap apples will not pollinate other varieties, so it's safe to plant the Starkspur along with other Stark apple varieties such as the Golden Delicious and Red Rome Beauty. It prefers damp, acidic sandy soil and a full sun environment. This apple normally ripens in mid-October in USDA climate zones 5 through 8.