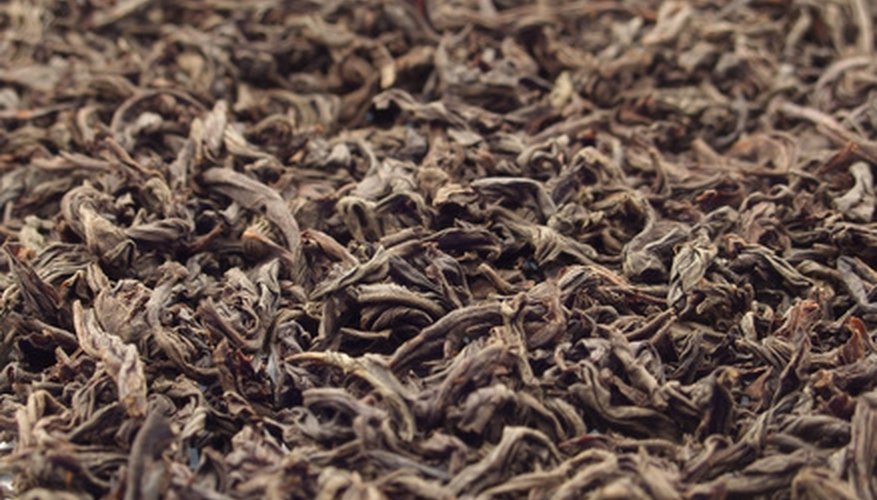 Camellia sinensis is generally used as an ornamental plant, but the leaves may also be used for tea. Also known as the tea camellia, this plant is a dense, round shrub that grows to 15 feet tall and has leathery, dark green leaves. This plant produces fragrant white flowers in fall and is hardy to U.S. Department of Agriculture Plant Hardiness Zone 7. Camellia sinensis is grown commercially throughout Asia. There are three varieties.
Assam
Assam variety camellia (C. sinensis var. assamica) is native to the Assam region of India, which is in the northeastern part of the country, along the Burmese border. Assam tea is now grown commercially throughout Asia. The Assam camellia is a tree that can reach 65 feet in the wild. When used on tea plantations, trees are kept cropped short, about 3 to 4 feet tall. Foliage is medium green and leathery and can reach 9 inches in length. Assam camellia should be planted in well-draining soil and requires ample water. The most cold-sensitive camellia plant, it is hardy in zones 10 and above. Tea from these leaves is used to make black tea and has an earthy flavor.
Cambodian
Cambodian camellia (C. sinensis var. parvifolia) is used by tea growers to create hybrid plants and is rarely cultivated on its own. The multi-trunked tree is small (about 16 feet tall) and leaves are shorter than those on Assam plants, about 7 inches long. Small white flowers bloom when temperatures cool. Sometimes thought to be a hybrid between the Assam and China varieties, this plant is hardy in zones 8 and above.
China
Native to southeast China, China camellia (C. sinensis var. sinensis) is the original tea plant, and the first records of it being used for tea production date back to the 1700s. The plant differs from the Assam and Cambodian varieties, as it is a bush rather than a tree. The China camellia can grow to 10 feet and has dull leathery medium green leaves that are smaller than other varieties, reaching about 5 inches long. China camellia produces fragrant round white flowers in fall. Leaves from this tree are used to make green tea. This plant is hardy in zones 7 and above, and thrives in filtered sun to shade.