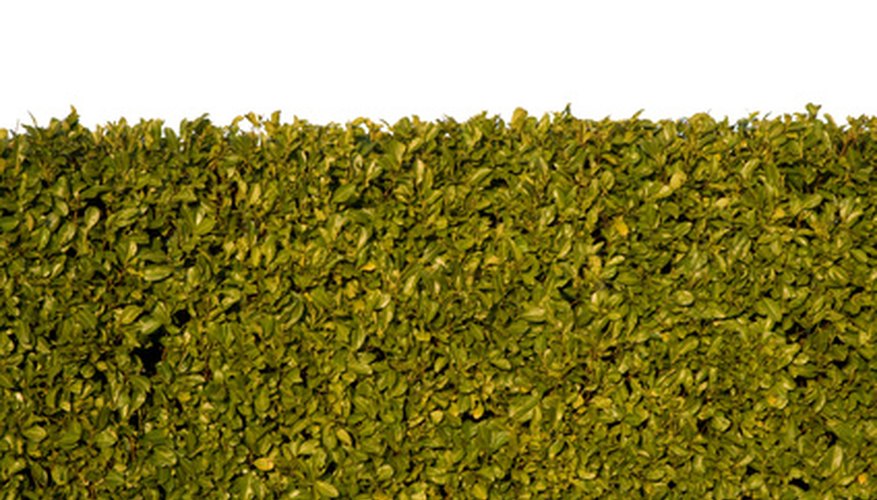 Isolated hedge image by Pamela Uyttendaele from <a href='http://www.fotolia.com'>Fotolia.com</a>
Gardeners in the sunny state of Florida are envied for their selection of plants, as the warm weather of the region promotes vigorous growth from a vast number of species. Florida gardeners who are looking for fast-growing hedges have a wide selection of attractive hedge plants to choose from.
Golden Bamboo
Reaching an average height of about 5 feet, golden bamboo (Pleioblastus viridistriatus) is a showy shrub notable for its pointed, variegated golden and green leaves. The striking plant is lovely as a naturalized, exotic hedge, and like most bamboo species, golden bamboo is a quick grower. The plant will grow throughout the entire state of Florida, from 8A in northern Florida all the way down to zone 11 in the southern tip of the state. Golden bamboo does best in fertile, well-draining soil that's enhanced with organic matter. The plant will tolerate both sun and partial shade so long as its watered frequently. Golden bamboo can spread rapidly if not monitored, so consider using underground barriers.
Pittosporum
Pittosporum (Pittosporum cvs.) is fast growing shrub notable for its tightly packed clusters of green leaves. The plant reaches an average height of between 8 and 12 feet, with an even wider spread. Pittosporum boasts fragrant, crisp white flowers in the spring. Pittosporum is an excellent shrub for Florida, as it has a high saline tolerance and will grow throughout the state in USDA zones 8 to 11. The shrub should be grown in full sunlight for best results, but the plant will also tolerant partial shade. Plant pittosporum in a well-draining sandy loam that is slightly alkaline to acidic, and water occasionally during summer droughts.
Japanese Privet
A member of the olive family, Japanese privet (Ligustrum japonicum) is a large shrub or small tree that responds well to pruning and can be trimmed into a formal, clean-cut hedge. The fast-growing shrub sports dark green or variegated yellow and green leaves accented by white, spring-blooming flowers. The shrub is tolerant of a range of soil conditions, and will grow in full sun or partial shade. Japanese privet is suitable for all of Florida except for the very southern tip in USDA zones 11. The shrub requires little care, though it should be watered frequently to keep the soil moist.