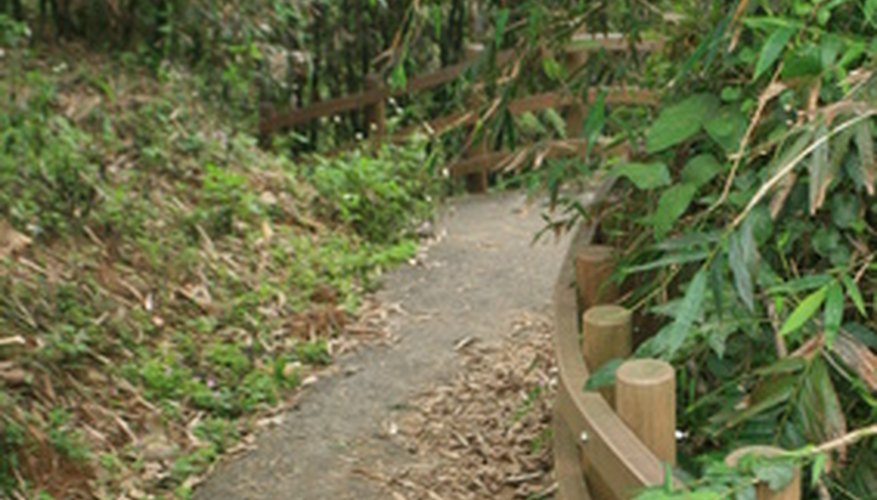 bamboo image by Viera Pon from <a href='http://www.fotolia.com'>Fotolia.com</a>
Georgia lawn weeds come in all shapes and sizes, from mimosa tree seedlings that have sprouted in your yard to golden bamboo or kudzu vine. While weeds are technically any plants that grow where they aren't wanted, Georgia has a number of common invasive plants and lawn weeds that gardeners can identify from their leaves or flowers. Georgia gardeners should identify weeds before removing them from their yard, since different plants respond differently to herbicides and manual removal.
Examine your lawn weed thoroughly, taking notes. Describe the size, shape, color and texture of leaves. Do they have teeth? Are they on opposite sides of the stem or the same side? Are they different colors on the top and bottom; are they covered in hair? Note the color, size, shape and number of petals of any flowers on this weed.
Write down as much information as you can regarding the time of year and location of the weed in your lawn. Is it in the sun or shade? Is the soil wet or sandy? Are similar weeds nearby?
Look for similar weeds on the University of Georgia's Georgia Turf--Weed Management directory (see Resources), which has an image and name database of both broadleaf and grassy weeds. Also check the Georgia Exotic Pest Council's directory of invasive weeds in Georgia, which provides common names and images of invasive weeds throughout the state, along with control measures. If your lawn weed is one that's commonly found in Georgia, you will see it listed in this directory.
Call on a Georgia Master Gardener for help with weed identification. These volunteer gardening professionals receive training in weed identification among other topics, so they can help you identify any weeds you can't identify on your own. Use the Georgia Master Gardeners Local Associations county-based directory to find someone near you.