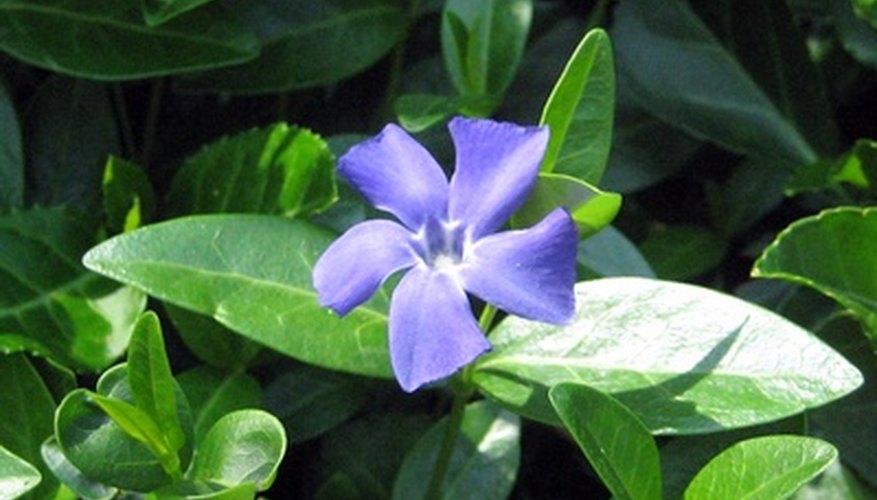 Flowers in shades of blue are a pleasure to have in the garden, when their blooms seem to match the sky on a clear spring or summer day. Blue flowers are somewhat rare in the plant world, and people often stop to admire "true blue" flowers when they come across them in a garden. Gardeners who'd like to brighten up a shady area of the garden with blue blooms have a handful of lovely flowers to choose from.
Wishbone Flower
Also called "bluewings," wishbone flower is a low growing annual member of the figwort family. A native of southeast Asia, wishbone flower reaches an average height of about 1 foot. The pansy-like flowers of the plant are available in a range of colors, but are mostly frequently seen in shades of blue and lavender. Wishbone flower works well as a warm weather annual for a low flower bed. The plant is very sensitive to frosts and does best in a humid climate. Wishbone flower is very tolerant of shade and will thrive in almost complete shade if grown in a warm climate. For best results, plant the flower in a moist soil enhanced with organics in USDA zones 6 to 9.
Blue False Indigo
A native of the United States, blue false indigo (Baptisia australis) is a tall perennial that reaches an average height of between 3 to 6 feet. The plant is characterized by its columns of tiny blue flowers, which appear throughout the spring and attract butterflies in droves. The leaves of the plant are a rich green, and the flowers give way to interesting black seed pods. Blue false indigo will tolerate partial shade in USDA zones 3 to 9. The plant requires a loose, well draining soil, though it does not need supplemental watering. The blue flowers may be clipped and used in a wildflower bouquet.
Common Periwinkle
A member of the dogbane family, common periwinkle (Vinca minor) is a perennial vine that rarely grows above a foot tall. The European native is a popular ground cover, as it will sprawl outwards and form a dense mat of leaves and flowers. The plant blooms with flowers in various shades of blue and purple throughout the spring in USDA zones 4 to 9. Common periwinkle does well in shade or partial shade and is ideal for locations under trees. The plant isn't picky about soil so long as it gets plenty of water. The plant may become difficult to control in areas with excess rain.