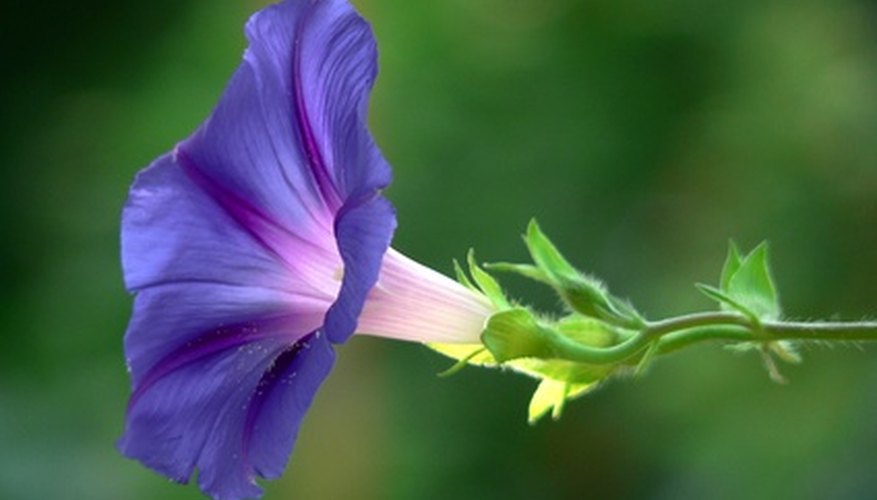 bluebell image by Maksym Dyachenko from <a href='http://www.fotolia.com'>Fotolia.com</a>
Campanula flowers in blue varieties are blooms of the commonly named bellflowers. As their name suggests, bellflowers display a bell-shaped blossom and appear in many cool hues like lavender and lilac, but only certain varieties offer shades of true blue. Identify particular varieties and their individual features for a pop of cool color in your home garden.
Carpathian Harebell
Carpathian harebells (Campanula carpatica) are perennial bellflowers that boast green foliage and blue blossoms in the "Blue Clips" and "Blue Uniform" varieties. These flowers bloom from June through August. Thriving in partial sun to full shade, these blue campanula flowers prefer moist, well-drained soil, according to the University of Illinois Extension. Carpathian harebells grow to a height of 6 to 12 inches. Plant in USDA zones 3 to 8.
Serbian Bellflower
Serbian bellflowers (Campanula poscharskyana) offer a blue variety of the campanula in the "Blue Waterfall" variety with a low-spreading habit. Flowers are dark blue with white-hued centers, according to the University of Maryland Extension. Foliage is green with toothed leaves. Bloom time for this flower is the middle of the summer. Thriving in light to medium shade, Serbian bellflowers are vigorous growers sometimes considered invasive in the garden. Plant this drought-tolerant blue campanula flower in well-drained soil. Growing to a height of 4 to 9 inches, Serbian bellflowers perform best in USDA zones 3 to 7.
Peachleaf Bellflower
Peachleaf bellflowers (Campanula persicifolia) display flowers in blue or white hues. The cultivar "Blue" offers flowers in sky blue with stems reaching 30 inches in height. Flowers bloom during the summer season as singles, doubles or semi-doubles, according to the Michigan State University Extension. Thriving in full sun to partial shade with a preference for well-drained soil, peachleaf bellflowers grow to a height of 36 inches. Plant in USDA zones 4 to 10.