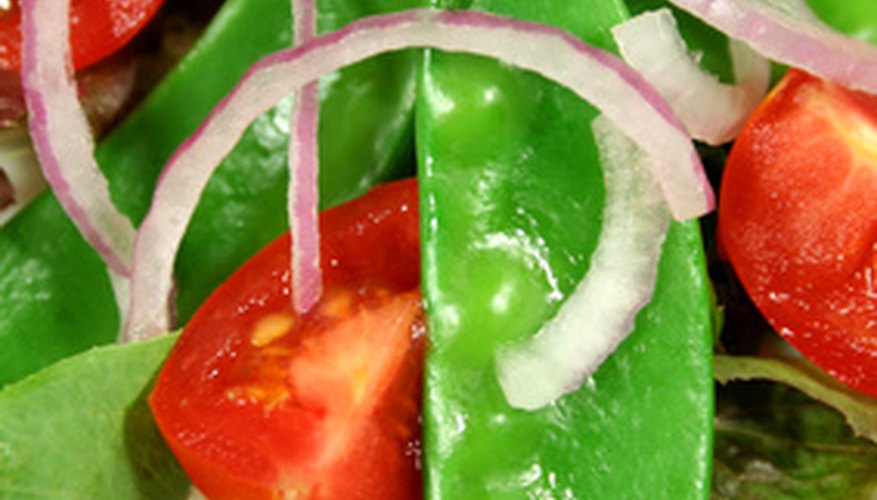 The mail-order seed catalog company, Burpee, sells four different varieties of snow peas (as of their 2010 print and online publications). Snow peas, also called sugar peas, differ from other types of garden peas. The primary feature of a snow pea is the production of a sweet-flavored pod that is harvested and eaten well before the peas enlarge and get big inside. Thus, the snow-pea plant takes slightly less time to produce a vegetable crop during the cool-weather months.
Oregon Sugar Pod
Burpee sells the snow pea variety "Oregon Sugar Pod" with a "certified organic" designation (no chemicals during production). This snow pea variety reaches maturing in 68 days and grows 28 inches tall by 8 inches wide. The flower clusters reliably yield two pods (up to 4-1/2 inches long) on the stems. The plant demonstrates resistance to pea virus, common wilt and powdery mildew diseases.
Oregon Sugar Pod II
Also taking 68 days to mature, "Oregon Sugar Pod II" is exactly similar to "Oregon Sugar Pod" in growth habit, requirements, disease resistances and pod characteristics. The difference is that this variety is not certified as organic, meaning some synthetic chemicals may have been applied to plants that yielded these seeds.
Snowbird
Sold only by the Burpee seed company, snow pea selection "Snowbird" grows merely 16 to 18 inches tall and 8 inches wide. The numerous 3-inch-long pea pods are ready for harvest only 58 days after seeds were first sown in the garden soil. The pods are best harvested when the bumps of the developing peas just start to appear inside the pods, which are often held in clusters of two to three on plant stem tips.
Mammoth Melting Sugar
Growing up to 4 feet tall, the heirloom variety "Mammoth Melting Sugar" requires some type of trellis, fence or other structure to grow upon in the garden. The plants produce harvest-size, 4-1/2- to 6-inch pods 68 days after sowing the seeds. This is a fungal wilt-resistant variety of snow pea. The Burpee online catalog describes this variety as "by far the largest and finest of the sugar or edible-podded peas." The tall plants produce for a long time and the pods remain sweet and tender much longer in the season than most other snow-pea varieties.