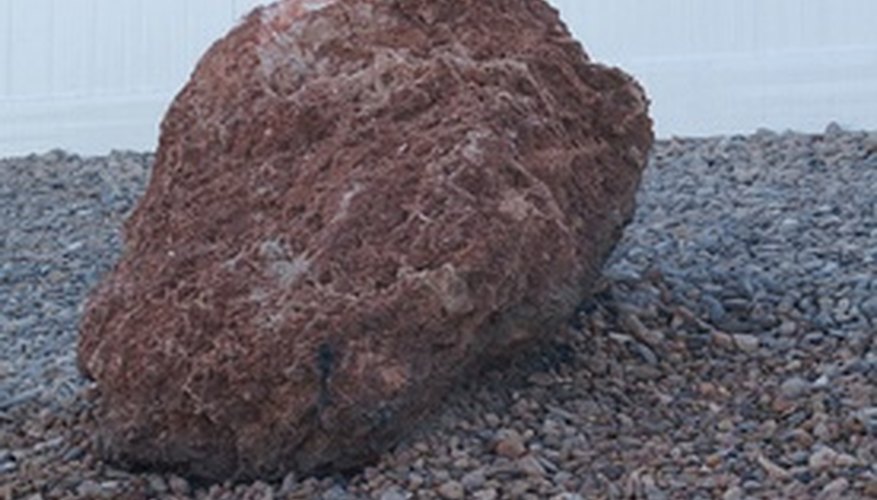 For yards that are in naturally rocky areas, areas of low water or yards where the homeowner cannot take care of the yard adequately, rocks are a viable alternative to a lawn. A landscape that uses rocks may have a single boulder as an accent, an island with rock mulch, a dry stream bed or an entire area covered in pea-sized gravel. Rocks provide an almost maintenance-free landscape and reduce costs for water.
Mark the borders of where you want gravel beds with spray paint.
Remove sod in the area that you plant to put down rocks using a sod cutter. A sod cutter uses blades to cut grass beneath the roots and lift it away in strips like a carpet. You can rent sod cutters from equipment rental companies.
Install edging around the borders of your gravel beds. Edging will help keep grass out of the rock bed and hold the rocks inside the bed. Dig a 6-inch trench around the border of the gravel bed. Use a scoop shovel to slope the bed gradually into the trench. Unroll the edging and push it up against the wall of the trench. Fit the sections of metal or plastic edging together using connectors, or stack cement or stone edging so that the pieces have no seam. Insert stakes into the metal or plastic edging and pound them into the ground. Fill in the trench behind the edging with soil.
Lay down plastic weed barrier cloth in sheets over the soil. This will prevent weeds from becoming established inside the bed. Cut the weed barrier so it is the exact size as the outline of your rock bed. Attach the weed barrier cloth to the soil using plastic anchoring staples.
Cover the weed barrier cloth in a thick layer of gravel.