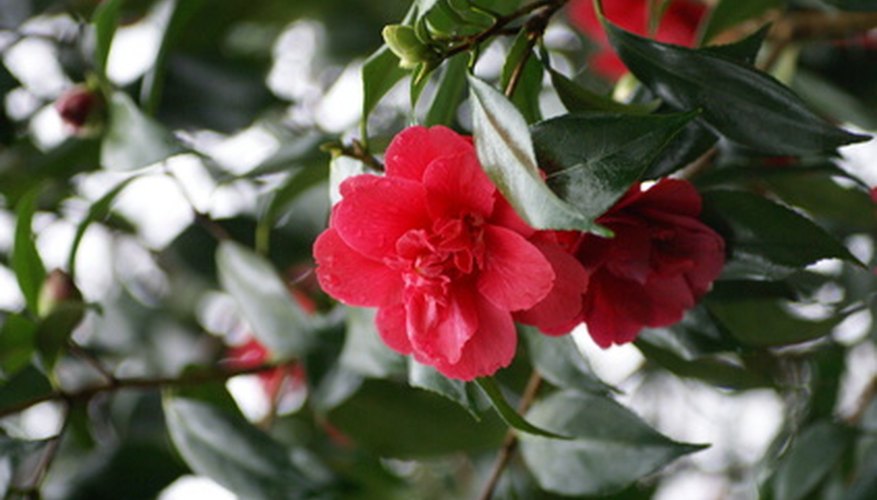 The tea plant (Camellia sinensis) is a large evergreen shrub or small tree native to China. The dark green leaves of the shrub are used to make black, green and oolong tea. The tea family (Theaceae) boasts a selection of evergreen shrubs that can be cultivated as attractive garden plants.
Sasanqua Camellia
Sasanqua camellia (Camellia sasanqua) is a flowering evergreen member of the tea family. Grown as either a large shrub or small tree, the plant ranges in height depending on the cultivar, and may be as short as 4 feet or as tall as 15 feet. Sasanqua camellia sports glossy green leaves accented by fall and winter blooming flowers, which range in color and shape. A native of China and Japan, sasanqua camellia is tolerant of a range of conditions in USDA zones 7 to 9. Like azaleas and rhododendrons, sasanqua camellias love an acidic soil that's enhanced with organic matter, though they'll tolerate other soils, too. Plant in filtered sunlight or full sunlight and water often until the shrub is established.
Japanese Camellia
A native of Japan, Japanese camellia (Camellia japonica) is an evergreen shrub notable for its large, dark green leaves and its showy flowers, which may be pink, white or red. The early blooming shrub produces its flowers in late winter or early spring, continuing on throughout the season. The size of the plant varies between 3 feet and 15 feet, and is often about 10 feet tall. Japanese camellia is remarkably hardy and rarely struggles with pests or disease. For best results, cultivate the shrub in partial or full sunlight in USDA zones 7 to 9. Like the sasanqua camellia, the Japanese camellia prefers an acidic, well-draining soil that's kept moist.
Cleyera
Cleyera (Ternstroemia gymnanthera) is an evergreen member of the tea family that offers unusual foliage, as its leaves change gradually from bright red to dark green. The shrub reaches an average height of between 8 and 10 feet, and may be pruned as a formal hedge or even a topiary. A native of China and Japan, cleyera blooms with small, unremarkable white flowers that give way to red berries in the fall. The shrub likes a warm climate, and it will thrive in partial sunlight or shade in USDA zones 8 to 10. Plant cleyera in a well-draining, acidic soil and water frequently, enough to keep the soil moist to the touch.