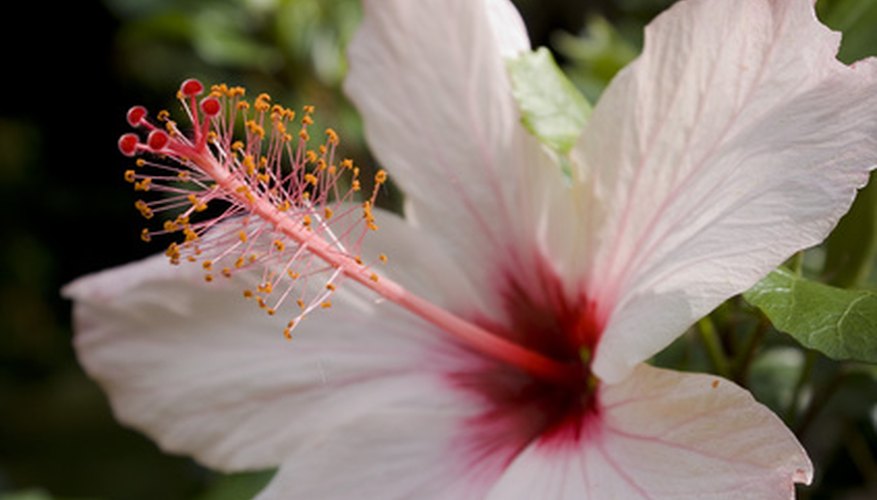 Large, brilliant flowers grown among the garden create a vibrant, commanding presence. Grown in a wide range of shapes and colors, they provide focal points to areas of the landscape like borders and beds, as well as flanking walkways and garden walls. Large blooms also make ideal fresh cut flowers to use in an floral arrangements and other decorative displays.
Hollyhock
Hollyhock (Alcea rosea (single)) is an herbaceous perennial flower that features large, single flowers. They grow 6 to 8 feet tall and 1 to 2 feet wide and produce outwardly facing, 4-to-5-inch-wide blooms that grow in a wide range of colors including, red, pink, yellow, white and purple. The butterfly-attracting blooms grow along the upright, rigid spikes that reach between 5 and 8 feet tall. The heart-shaped, large foliage features three, five or seven lobes that become smaller as you reach the top of the spike or spire. Hollyhock flowers emerge in June to last into August and are ideal planted along the back of the bed or border to help provide architectural height to the garden. They grow best in full sun and well-drained, moist soil. Plant hollyhocks in USDA zones 2 to 10.
Hibiscus
Hibiscus 'Clown' (Hibiscus 'Clown') is a woody-based hibiscus variety that has a sturdy, vigorous and erect growth habit and rate. It grows up to 4 feet tall and 3 feet wide and features the dinner plate-sized flowers. Each five-petaled, 5- to-9-inch-wide, pale pink flower is veined with fuchsia and has a contrasting dark red "eye" or center. Hibiscus 'Clown' makes for ideal specimen plant because of its dramatic flowers, or screening plant to grow as a makeshift privacy barrier among the garden. Hibiscus flowers last for only day but produce multiple flowers in succession that begin blooming in mid-summer to last into early fall. They grow best in full sun and humus-rich soil that is medium to wet. Plant hibiscus 'Clown' in USDA zones 5 to 9.
Bigleaf Hydrangea
Bigleaf hydrangea (Hydrangea macrophylla 'Nikko Blue') is a popular variety of hydrangea shrub that produces large, rounded flowers. It grows 3 to 6 feet tall and has a spread of 6 to 10 feet tall. Bigleaf hydrangea has a moderate growth rate and clumping habit. The large, deep blue flowers range from globe-shaped to lacecaps with flattened flowerheads. Bigleaf hydrangea flowers bloom on the previous season's wood. Frost-tolerant, they make ideal shrubs to grow in masses along a flowerbed or border. Bigleaf hydrangea grows best in full sun to part shade and well-drained, moist soil. They are suitable grown in USDA zones 6 to 9.