Jeremy Samuelson/The Image Bank/Getty Images
According to poet John Keats, beauty is truth, truth beauty; but our notions of beauty change over time as new truths surface. The popular appeal of fashions like fur coats and dark tans has faded, and, in these times of drought, lush, high maintenance gardens have lost center stage to the balance and beauty of water-wise backyards.
Related: For more information on how to be a water-wise gardener check out 10 Ways to Conserve Water in Your Garden.
8. Southwest Beauty
Water is the new gold in the American Southwest where winter rains yield to summer drought just when gardens are most thirsty. But many Southwest native species rank high among the most drought-tolerant. Add jubilant native wildflowers and succulents to your garden for water-sparing plant pleasure. You'll find a variety at Waterwise Botanicals, a nursery that grows its own plants and offers expert advice to gardeners.
Related: For more information and ideas check out Waterwise Botanicals.
7. Mediterranean Warmth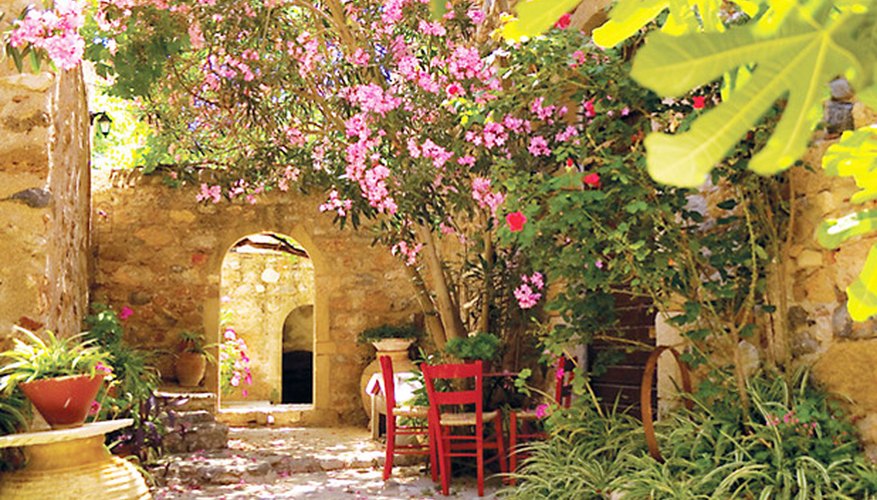 Travelers to western Italy delight in the country's warm patios and romantic Mediterranean gardens that group water-wise plants in water-sparing ways. To get the effect at home, meld earth-tone containers, like terra-cotta pots, with the green-grey leaves of Mediterranean native plants, including fig trees (Ficus carica in zones 6 - 9) and bright-flowering shrubs like in this garden by Love Design Ideas.
Related: For more information and ideas check out Love Design Ideas.
6. Hardscape Landscape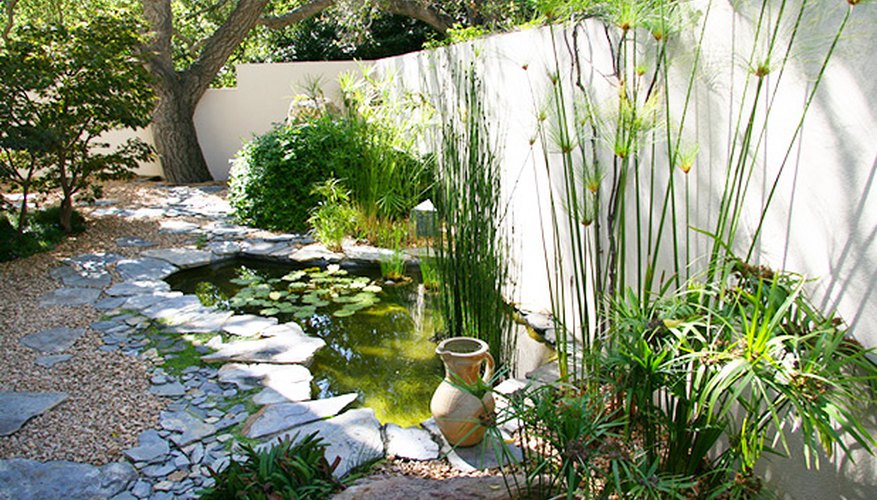 Beautiful backyards don't have to be chock-full of thirsty plants if you hardscape, constructing some permanent, non-plant elements for your garden. People have enjoyed decks and patios for years, but the current trend is to use features like pergolas, pavers, pools and patios to replace lawns or backyard plants as a water-saving strategy. The right hardscape creates serenity and architectural interest, as in this Isabelle Greene design.
Related: For more information and ideas check out Isabelle Greene and Associates.
5. Xeriscape Serenity
Mark Turner/The Image Bank/Getty Images
Xeriscaping is a method of low maintenance, water-sparing landscape sustainability rapidly gaining popularity. It promotes natural, chemical-free gardening techniques in a water-wise environment by stressing plant selection and minimizing turf. According to Allen Quay of Landscape Design Advisor, xeriscaping is not zero-scaping, but can create a water-wise garden full of life and color.
Related: For more information and ideas check out Landscape Design Advisor.
4. Rainwater Harvest
Many gardeners take baby-steps toward transforming their thirsty yards, but others dive right in. One couple decided to transform their backyard pool into a garden patio, leaving the pool beneath as a rain-storage tank. The benefits include not just recouped rain-harvesting, but also eliminating the thousands of gallons of water that evaporate from a large pool annually.
Related: For more information and ideas about this backyard pool garden, check out the blog in the LA Times.
3. Container Garden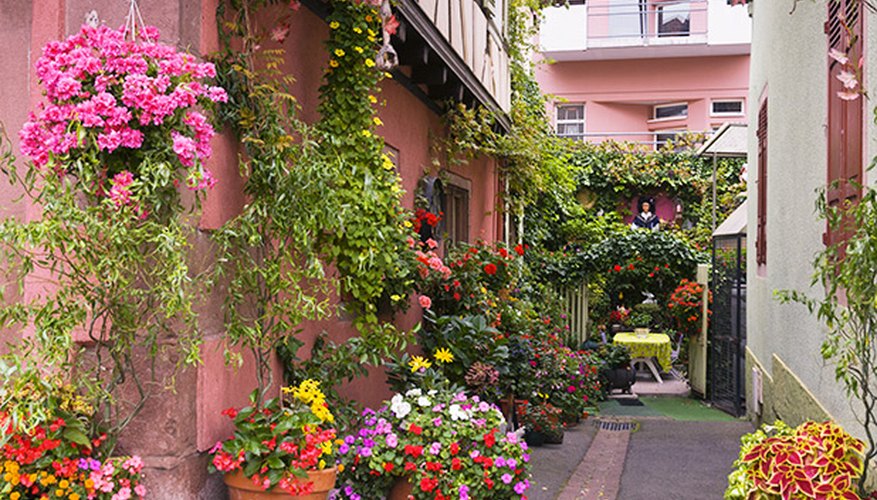 John Elk III/Lonely Planet Images/Getty Images
Limited space never stopped a real gardener, since even the smallest apartment has room for potted plants. When you select both plant and pot carefully, container gardening saves water as well. Avoid unglazed terra cotta pots that absorb and sweat out water, and move your plants into the shade during hot weather. Drip irrigation can work well to get your precious water to the plants' roots.
Related: For more information and ideas check out HGTV Gardens.
2. Ornamental Grass Haven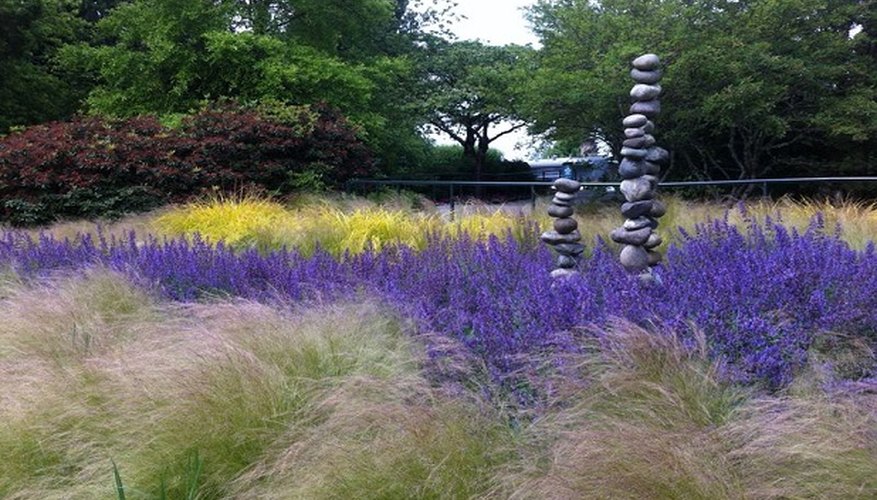 Belllevue Botanical Garden
Ornamental grasses add texture and movement to a landscape without exacting a high water cost. Increasingly popular in water-wise landscape designs, ornamental grasses provide strong visual impact far longer than summer flowers. In the Bellevue Botanical Garden, highly drought-tolerant Mexican feathergrass (Nassella tenuissima, zones 7 - 11) contrasts with deep blue catmint (Nepeta x faassenii), another water-wise perennial for USDA zones 3 - 8.
Related: For more information and ideas check out the Bellevue Botanical Garden.
1. Thriving Native Plants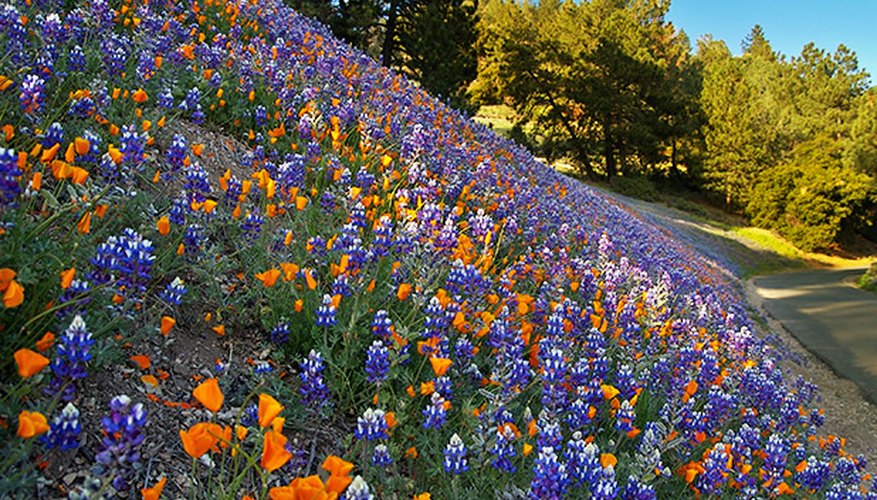 Patrick Turner/Flickr Open/Getty Images
Native plants thrive in the wild with only Mother Nature's rain for sustenance, and they provide a valuable addition to water-wise gardens. To experience the range and beauty available in native plantings, visit the native plant garden at the Rancho Santa Ana Botanic Garden where more than 6,000 native plants form a rich and textured palette.
Related: For more information and ideas check out the Rancho Santa Ana Botanic Garden.