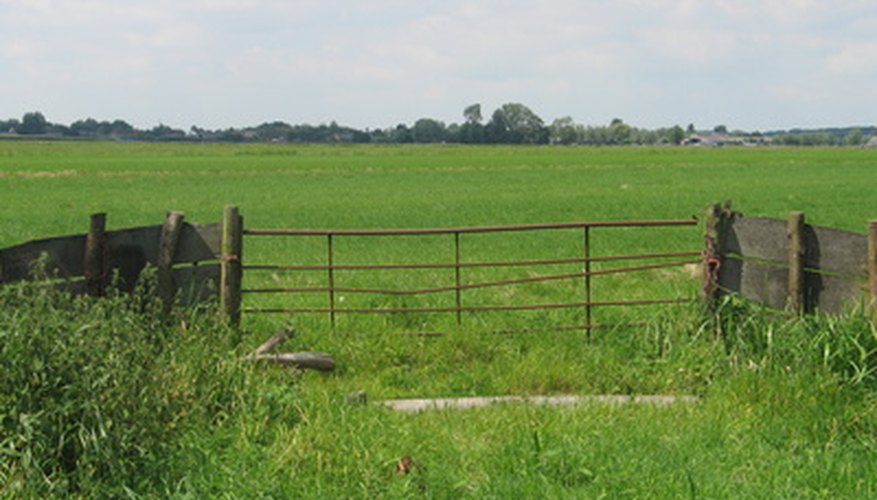 Bahia grass is a warm-season grass widely used in Florida for pastures and production of hay. It has relatively low fertility requirements, stands up well to grazing and is drought resistant. It reaches a height of 12 to 25 inches tall and reproduces by seed. Bahia grass is a sturdy, dense grass that is well adapted to sandy soils.
Perform a soil analysis on the field. Use a home soil test kit or take a soil sample and send it to a soil laboratory. This will tell you the pH and nutrient levels in the soil.
Add any soil amendments required, based on the results of the soil analysis. Sphagnum peat will lower pH levels in alkaline soils, and lime will raise the pH in overly acidic soils.
Loosen the soil and mix in the soil amendments with a rototiller or tractor tiller. Till the soil to a depth of 6 to 8 inches.
Grade the soil to make it level. For large areas, use a tiller rake attached to a tractor. Smaller areas can be graded with a hand rake.
Sow the bahia seeds into the soil. Bahia seed is sown at a rate of 15 to 30 lbs. per acre depending on the cultivar, at a depth of a 1/2 inch.
Water the seed bed regularly to keep the soil moist. The soil must remain moist until the grass has germinated and the roots have established.
Fertilize the grass seed seven to 10 days after the grass seed emerges. Fertilize at a rate of 30 lbs. of nitrogen per acre. Add all the recommended phosphorous, based on the results of the soil test, and half the needed potassium.
Decrease the irrigation to 1 inch of water per application once the grass has become established. This usually takes two to three weeks. Once established, bahia grass needs supplemental irrigation only when it begins to wilt.
Fertilize the grass again 50 days after the first fertilization. Apply another 50 lbs. of nitrogen, total, and the remaining half of the needed potassium.