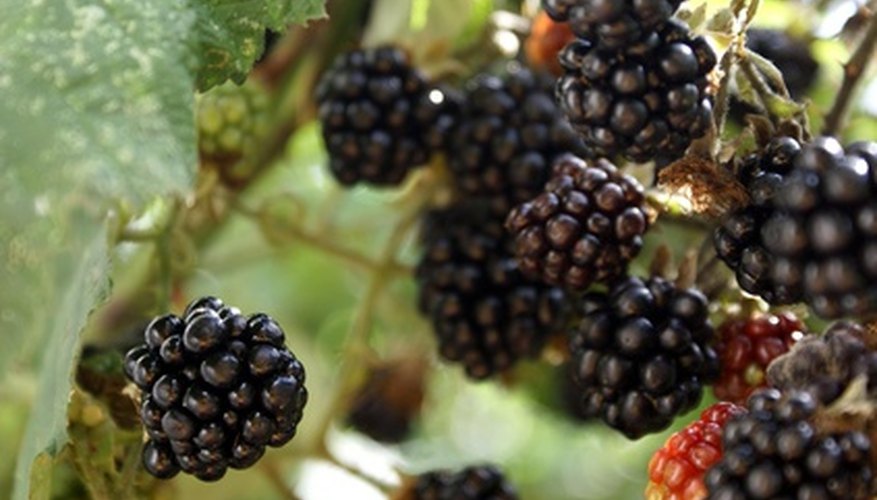 blackberries image by L. Shat from <a href='http://www.fotolia.com'>Fotolia.com</a>
Blackberries thrive in cool, humid regions including around the Great Lakes. In Wisconsin, blackberries can grow throughout the state, which is in USDA zones 3 to 5. For best results, blackberries may be planted throughout Wisconsin and will bear fruit in summer. In general, blackberries require full sun and regular water.
Arapaho
Released by the University of Arkansas in 1993, the Arapaho blackberry is an early-ripening, thornless erect plant that produces cone-shaped black fruit. These berries are firm, have small seeds and are mild and sweet in flavor. Plants, which are the earliest ripening thornless blackberry on record, have a fairly short season, producing fruit for about four weeks. These plants are hardy in zones 3 to 8, making them a good choice for any part of Wisconsin. After harvest, cut back the canes that bore fruit to encourage new growth. This plant can reach 6 feet tall.
Chester
Introduced in Maryland in 1985, the Chester blackberry is a thornless, semi-erect plant that may require staking as fruit ripens. Trailing vines can grow to 10 feet and plants can reach 4 feet tall and 5 feet wide. Chester blackberries produce large, dark, mild-flavored fruit late in the summer. Fruit is firm and stores better than many varieties. Chester plants are among the more cold hardy blackberries and may be planted in southern and central Wisconsin. This blackberry is resistant to caneblight. Canes should be cut to the ground after harvest. Chester blackberries are hardy in zones 4 to 8.
Illini Hardy
Released in 1988 by the University of Illinois, the Illini Hardy was specifically developed for colder regions and will thrive in Wisconsin. This plant, which can reach 6 feet tall, produces medium-sized black fruit in the middle of the summer. The flavor is mild and sweet. Illini Hardy plants are thorny and erect and do not require support. According to trials run by the University of Illinois, this plant has survived to minus 24 degrees F and has produced berries for home gardeners in many cold-weather locations, including Madison, Wisconsin. These plants are hardy in zones 3 to 8.