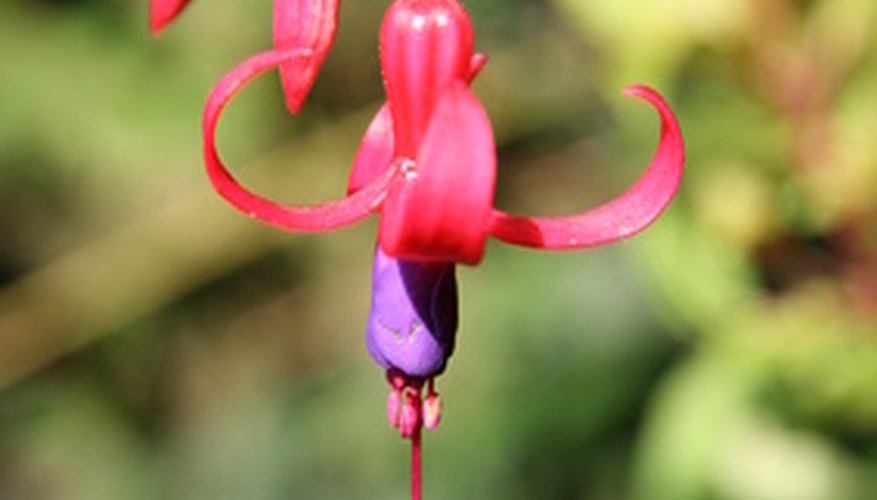 Fuchsias are a large group of flowering shrubs that can be grown in containers, such as hanging baskets, tubs or barrels, or planted in the ground as show-stopping centerpieces. These long-blooming plants are evergreen in regions that experience no frost and deciduous elsewhere. The flowers of fuchsias come in a range of sizes and colors, all of which are highly attractive to hummingbirds and bees. Whatever size garden you have, large or small, you're sure to find a fuchsia variety suitable to grow and enjoy.
Double Petaled
Try growing some of the more striking double-petaled varieties, like the variety Pink Marshmallow. This spectacular fuchsia has some of the largest blossoms available on a fuchsia. It produces masses of 2- to 2 1/2-inch-wide very pale pink blossoms that bloom almost continuously throughout the summer. An interesting aspect of Pink Marshmallow is it has a tendency to turn a brighter shade of pink the more light it receives, according to Toni's Fuchsias. As a trailing variety of fuchsia, Pink Marshmallow is ideal for planting in hanging baskets letting the flowers spill out over the sides of the basket.
For a truly unusual variety of fuchsia try growing the Blacky variety. This showy fuchsia grows to about 3 feet high by approximately 2 to 3 feet wide. It is regarded as a semi-upright variety, which is best planted in pots or baskets. What makes Blacky distinctive is its dark pink and very deeply colored purple-red blossoms that are so darkly hued they often appear black, hence the name. Blacky will bloom in abundance from late spring to the first frost.
Plant the variety Dark Eyes for one of the more frilly double-petaled fuchsias. Dark Eyes has dark-purple to magenta colored blossoms and makes for a superb basket-grown or small tub-grown fuchsia. It can grow to a maximum of between 2 1/2 and 3 feet tall with an equal spread.
Single Petaled
Plant a single-petaled Carmel Blue fuchsia for continuous blossoms from midsummer through fall. This winter-hardy trailing fuchsia produces hundreds of small 1-inch-long lilac to dark lavender blossoms that hang down in a pendulous effect. Carmel Blue grows to about 1 1/2 feet tall, making it ideal for planting in smaller sized pots, tubs or barrels.
Grow a flamboyant orange-pink to salmon-colored Coachmen variety fuchsia. The dainty flowers of Coachmen will draw attention because they are one of the few orange-colored fuchsias available. This striking fuchsia with its delicate foliage grows to approximately 2 to 2 1/2 feet tall, making it a good choice for smaller sized pots and hanging baskets.
Semi-Double
Plant Snow Drop fuchsia for a good bush variety semi-double fuchsia. This hardy fuchsia can grow to about 3 feet tall with an equal spread, if not pruned. It will produce masses of white and red-speckled colored blossoms throughout the summer. This particular fuchsia variety is known for being a little more cold tolerant than other varieties, provided it is given a 2- to 3-inch layer of mulch.
President George Bartlett is a semi-double, trailing variety fuchsia known for its light-pink to slightly purple colored blossoms. It grows to approximately 2 feet tall, with an equal width. As a bush variety fuchsia, you can plant George Bartlett in tubs or barrels and it will make a neat and tidy colorful little background plant.
Resources