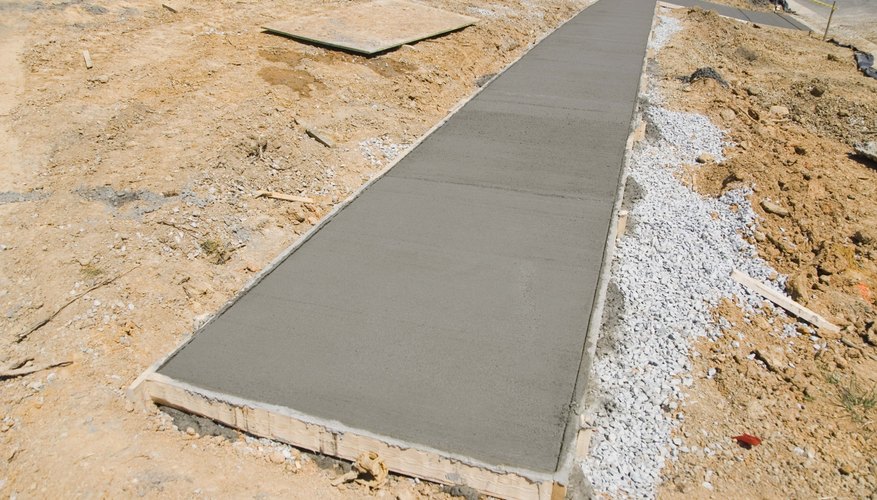 Jupiterimages/Comstock/Getty Images
Strip footings are required to provide solid support to mobile homes. The exact width and construction of such footings differs slightly by state. Determine the building codes for your area by contacting your building department before starting construction to ensure your footings are up to code.
Contact the manufacturer of the mobile home to determine footing design and spacing for that particular model, based on size and weight. Footings must meet the mobile home blocking diagram.
Determine the width and depth of concrete strip trench based on your soil analysis. The width of your strip foundations are based on the type and condition of your subsoil. Subsoil can consist of anything from rock or sandy gravel to clay or a mixture of sand, clay and silt. Your local building authority or office offers recommendations for each type of soil.
Dig the trench for the strip footing in the length, width and depth according to mobile home manufacturer guidelines as well as local building code requirements.
Reinforce the bottom of the trench with reinforcing steel plates, if required by local building codes.
Insert a stake into each end of the trench and then in 3- to 6-foot spacing intervals. Stakes need to be straight and line up with each other. Adjust with a level until they are all the same height.
Obtain inspection by local building code enforcement office before pouring footings.
Mix cement in a 1:5 or a 1:8 ratio of cement to ballast, depending on recommendations by your local building enforcement code experts. Ballast mix is a mixture of small pebbles or stones and sand. It is recommended you use a bucket or other container rather than a shovel to achieve more accurate amounts of each.
Pour strip footings using cement mix. Cement should be easy to pour, but not too wet. Pour cement to the top of the stakes.
Smooth and level the cement strip footings using a smooth metal float.
Allow concrete to harden and cure for 48 to 72 hours, depending on humidity levels and temperature.
Things You Will Need
Measuring tape

Shover

Stakes

Level

Cement mix

Ballast mix