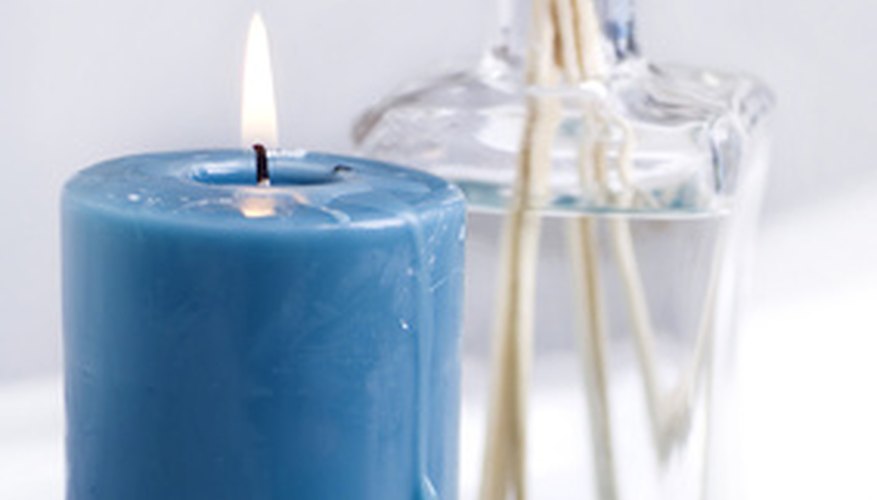 Bath salts and candle set against white bath tub area image by Paul Hill from <a href='http://www.fotolia.com'>Fotolia.com</a>
Garden tubs are longer and deeper than standard-sizes bathtubs. They're a touch of luxury for a bathroom, but especially enjoyable in a master bathroom. Decorate your master bathroom using an extravagant hand, rich colors and fragrances. Keep your garden tub the focal point.
Plants
Bathrooms have extra humidity because of all the showering and bathing. Orchids love humidity and will thrive if given adequate lighting. Place a row of orchids in containers on the windowsills. Install glass shelving in the corner of the wall behind the garden tub--glass won't block light--and use them for more plants like ivy or creeping charlie.
Towels
Fold a fluffy towel in half and then into thirds. That size should fit on the corner ledge of the garden tub. Add a washcloth on top of the towel and a pretty soap dish with guests soaps on top of the washcloth. Use wine holders as nooks for rolled up hand towels, or if the nook is big enough, bath towels. This releases storage in the linen closet for unsightly items and adds color to the bathroom. Drape a bath mat over the side of the garden tub.
Artwork and Views
Many master bathrooms have a window by the garden tub that allows a view out into the garden or atrium. If yours does, frame the view with translucent sheer curtains pulled to either side of the window. If privacy is required when bathing, install a roman shade to pull down and then put up out of view when not needed. For bathrooms with no view, consider artwork of gardens, flowers or plants. Botanical prints or flower photographs work in a modern or old-fashioned bathroom. Consider reproductions of Monet or Picasso garden- or flower-themed paintings.
Lighting
Bathrooms require a variety of lighting. Morning getting-ready rituals require bright lights with no shadows for applying makeup or shaving. Bathing is more relaxing with subdued lighting. Candlelight is soothing for a long relaxing soak in the garden tub. Place the candles carefully so they are out of the way.
Fragrance
Include your favorite fragrance in scented soaps, potpourri, candles and reed diffusers. Add essential oils to warm water in the garden tub. Orange and rosemary give an energetic lift. Lavender is soothing. Florals are appropriate for any mood. Essential oils should be kept in a dark place so don't leave them on the ledge of the garden tub.