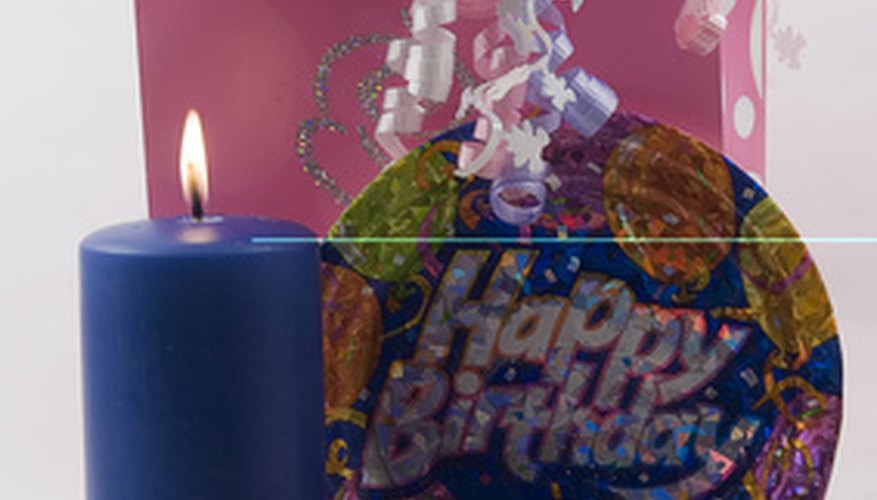 A floral centerpiece adds to the festivities of a party, event or celebration. Including a photograph of the guest of honor in a picture frame for a birthday, anniversary or shower adds a personal note. Since the photograph is viewed only from the front, the arrangement should be placed against a wall or table where the back isn't visible.
Place the guest of honor's photo in the picture frame.
Fill the container with floral foam that has been soaked in water for at least 30 minutes. Place a waterproof plate or saucer beneath the container to catch any drips.
Poke the stems of the tall greenery in the back of the container.
Place the picture frame in the back one-third of the container. Push it into the foam just a bit to stabilize it. Cover the stand of the picture frame with greenery that is slightly shorter than the tall greenery. Poke stems of greenery that is no more than 3 inches high in the front of the picture covering the foam completely.
Poke two stems of curved spiked flowers, such as snapdragons to the left of the frame so they arch over the frame. Poke one shorter stem that curves to the left on the other side of the frame.
Place shorter stems of roses, carnations and gerbera daisies in between the spiked flowers and either side of the spiked flower on the left side of the frame.
Poke even shorter stems of the roses, carnations and gerbera daises in front of the frame but don't cover the photo. The person in the photo should look as if they're framed with flowers but not obscured by them. Fill in any gaps with smaller flowers like mini carnations, baby's breath or alstroemeria
Add an appropriate accessories to the left side of the arrangement in front of the curved spiked flower. For example: Use a baby rattle for a baby shower, a few birthday candles for a birthday, wedding doves for a wedding shower or an announcement of the anniversary for a wedding anniversary.