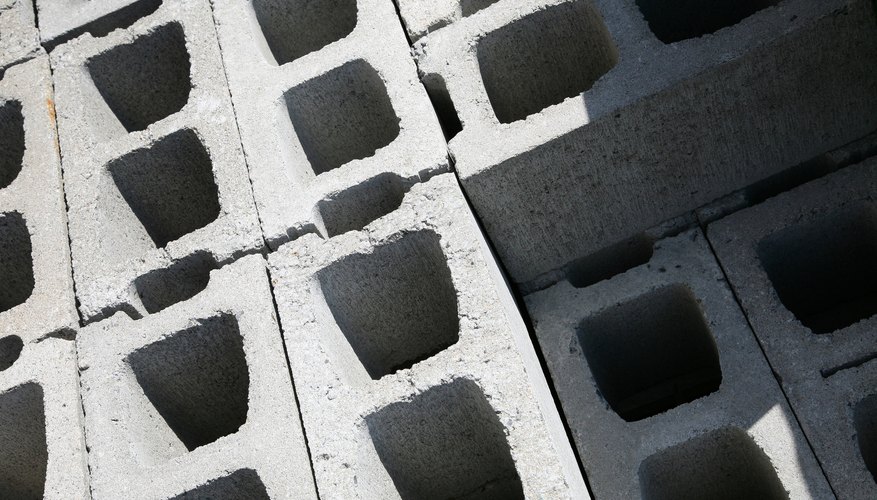 Jupiterimages/Photos.com/Getty Images
Building with concrete blocks tends to be a heavyweight project, involving the need for expensive transport of heavy building materials such as gravel for aggregates. If you're in a location where these materials are unavailable, an alternative exists to traditional concrete that will provide you with much of the strength and durability of the traditional mix. With a lightweight concrete made of pumice, you can construct concrete blocks for small-scale construction. The process of creating the lightweight blocks is the same as traditional concrete blocks, with the only change being the substitution of the pumice for gravel, which lightens the weight of the blocks significantly.
Fill a concrete mixer with 2 1/2 bags of Portland cement weighting 94 lb. each. Add in a cubic yard of pumice. Use crushed pumice, with the pieces about pea-sized for easy mixing into your lightweight concrete. Turn on the mixer and mix the cement and pumice thoroughly.
Add 5 gallons of water to the mix. Wait until the mixer wets all dry ingredients, covering the pumice with the now wet cement mix.
Set the concrete block molds onto a flat surface while mixing the pumice-crete mixture. Fill the molds with the pumice-crete using a spade. Place any insert required for the creation of hollow blocks inside the mold.
Wait 24 hours for the block to set to firmness before removing the block from the mold. Place it back onto the flat surface and continue to cure the block for another 10 days before using it for building applications.
Things You Will Need
Portland cement, 94-lb. bags

Crushed pumice, 1 cubic yard

Wheelbarrow

Hoe

5-gallon bucket

Water