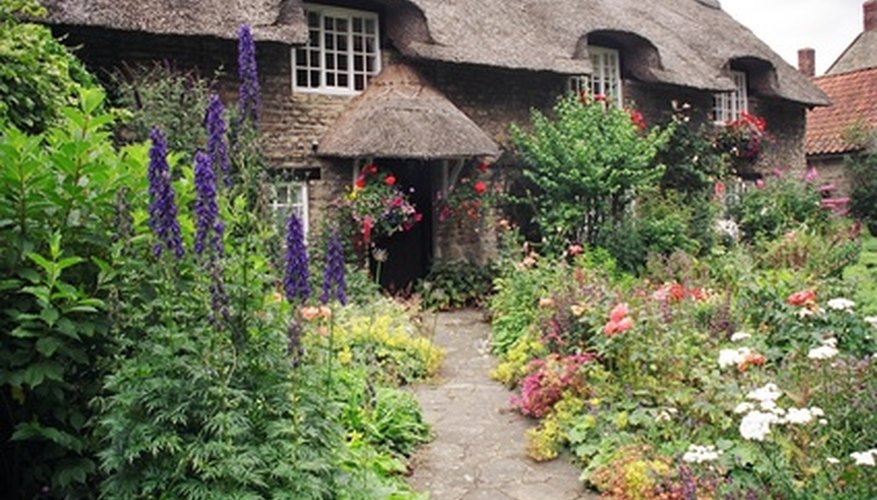 The cottage garden design is all about the idea of planning a space that looks unplanned. Taken from the European gardens-- especially the country English garden, modern cottage design is one of the most popular among homeowners for its casual, colorful design that fits any space and any home style. Since cottage design has few strict rules and more "suggestions," designing a cottage garden that fits your growing zone, light requirements, budget and garden size is only limited by your imagination.
Outline your garden space with a garden hose to mark the borders. Play with the hose until you find the right design. Sweeping curves are more pleasing to the eye than boxy, straight borders.
Remove any sod or grass within the interior of your planned garden. Large jobs may require the rental of sod-removing machinery, while most smaller jobs can be done with a spade. Line your border with rocks, bricks or other border material as desired, to keep a clean line and prevent grass from creeping into your garden.
Cut down straight into the soil with a hand trowel, removing a 3-inch sample of soil. For large garden spaces, take several samples from different areas, taking care to avoid any areas with decaying matter, such as leaves, as much as possible. Mix samples in a clean plastic container. Use separate containers for separate garden areas, as your soil may hold different properties in different areas.
Take your soil sample to your local cooperative extension office or full-service garden center that provides soil sampling. A test costs only a few dollars to determine the pH level, nutrient deficiencies and drainage properties of your soil. Purchase any amendments suggested to prepare your soil.
Amend soil, turning each amendment over with a spade into the garden until soil is a fine, powdery consistency. Amendments can include compost, manure, sand, lime and fertilizers, depending on your needs.
Add large decor items before adding plants. Cottage gardening lends itself to whimsy, incorporating items such as gazing balls, trellises, obelisks, weathered items such as baskets, old milk cans and gardening tools to add interest. Keep items minimal, focusing on one or two large pieces of interest over too many small things that look cluttered. Weathered fences, especially picket, old gates and country-looking outbuildings like sheds and garages help define the look.
Add shrubs such as roses, azaleas, rhododendrons or other favorites, keeping in proportion with your garden size. Small trees and fruit trees also add to the cottage feel.
Add ornamental plants, focusing on perennials native to your growing zone, first. Plants such as shasta daisy, coneflower, coreopsis, black-eyed susans, delphinium, sunflowers and dianthus are musts in the cottage garden, but visit your local garden center to get inspiration for plants suited to your growing zone and sun requirements. Be sure to follow planting instructions to allow for the rapid growth many of these plants will provide. Don't overlook climbing plants, such as clematis or climbing roses, for trellises.
Add annuals such as hollyhock, stock, aster, cleome, johnny-jump-ups, viola, petunia, marigold and others that catch your fancy. Cottage gardening is a focus on color, texture and a hodge-podge mix of heights and bloom shapes.
Mulch for a finished look, and add any smaller decorative items as desired. Water regularly.