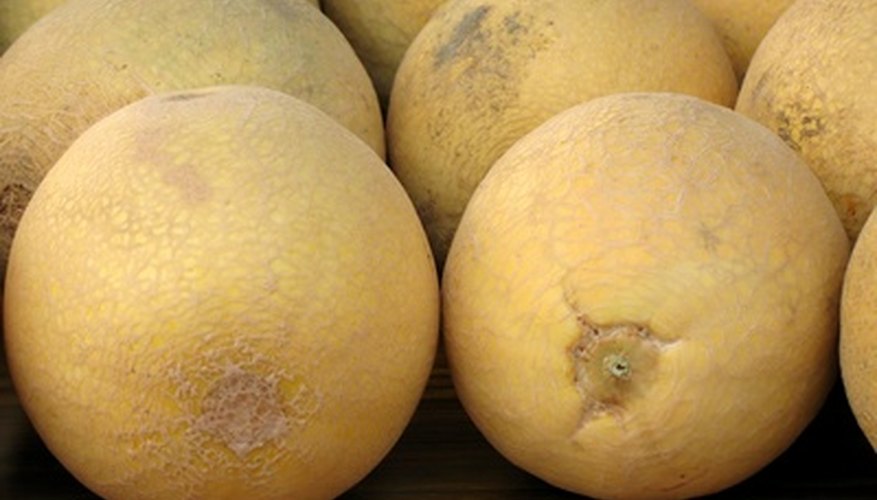 Summer brings an abundance of fruits and vegetables to the table. One of the most popular warm-weather fruits is the muskmelon. Named for its musky scent, the muskmellon (Cucumis melo) is commonly referred to as a cantaloupe, although true cantaloupes are not widely cultivated in the U.S. Muskmelon thrive when planted in fertile,well-draining, sandy soil and where plants receive six hours of full sun each day.
Wrangler
According to the University of Maine, one of the most flavorful muskmelons is the Wrangler. The oval-shaped Wrangler has a firm, flesh and a rough-textured net. It weighs approximately 2 1/2 pounds and is ready for harvest in 111 days. The plant is a sturdy and produces about 2 to 2 1/2 muskmelons.
Goddess
The musky-scented Goddess ripens early and is ready for harvest 100 days after planting. The oval-shaped fruit has a medium-fine net, a small seed cavity and a firm, sweet, well-flavored flesh. The Goddess plant produces two muskmelons per plant, each weiging approximately 3 1/2 to 4 pounds each.
Athena
The thick, course netting of the Athena protects the firm, flavorful flesh of this large muskmelon. The University of Maine states that plants produce approximately two muskmelons per plant, each weighing 3 1/2 to 4 pounds. The long oval-shaped Athena is ready for harvest 115 days after planting.
Grand Slam
The oval-shaped Grand Slam is a large muskmelon that weighs approximately 7 to 8 pounds and has a small seed cavity. Grand Slam muskmelons are ready for harvest in 75 to 80 days. The flesh of the Grand Slam is firm, sweet-tasting and the outer net is coarse in texture.
Maverick
Although the Maverick is small in size, the flavor is big. The Maverick is a sweet, firm-fleshed muskmelon that has a coarse-textured netting. The sturdy plant produces 3 to 4 muskmelons and is ready for harvest in 106 days.
Earliqueen
The mid-sized Earliqueen muskmelon is oblong in shape and has a coarse outer netting. The flesh of the Earlyqueen is soft, and sweetly flavored and the inner seed cavity is small. Earliqueen muskmelons weigh between 2 1/2 to 3 pounds and each plant produces approximately two melons.
Sarah's Choice
According to the University of Maine, Sarah's Choice is one of the sweetest and best tasting muskmelons. The plant produces an average of two melons per plant that are ready for harvest in 105 days. Sarah's Choice muskmelons are oblong in shape and have a fine outer netting.