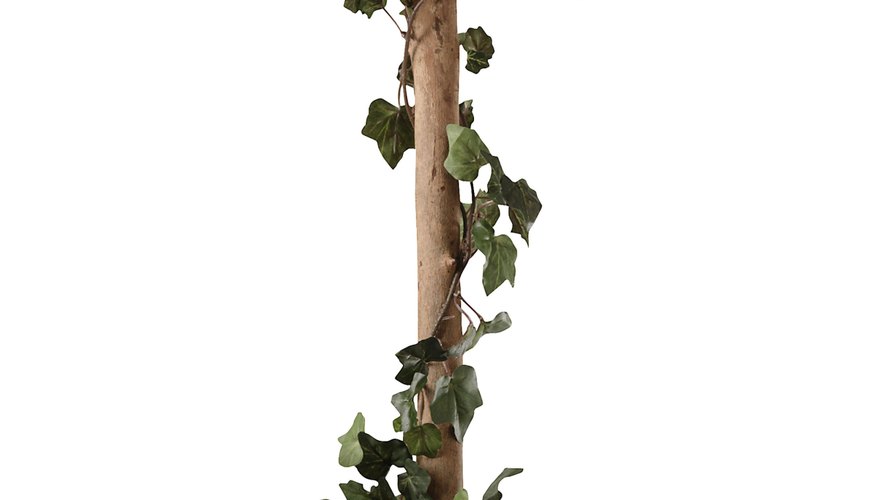 Brand X Pictures/Brand X Pictures/Getty Images
Topiary trees are highly manicured and beautifully shaped, usually into a ball or a series of two or three balls. In nature, there are two ways of growing topiary trees. The first is to grow vines around a specifically shaped form; the other is to cut the tree into the shape you desire. However, by creating your own tree, you can achieve a topiary effect in just a few hours. Afterward, your tree can be used to decorate your ceremony aisle or reception venue in style.
Sharpen the ends of the tree branches to dull points, ensuring that the knife always moves away from you when you sharpen. Slice off any remaining twigs to give the branch a smooth finish.
Fill the clay pot halfway with dry-hard clay. Push an end of one of the branches into the clay before the clay sets and ensure that it is straight from every angle. Allow the clay to set completely according to the manufacturer's directions.
Cut a hole into both ends of the 10-inch floral foam ball, then into one end of the 8-inch ball. The holes should be approximately the same size as the sticks' circumferences. Dab some hot glue into one of the holes of the 10-inch ball and place it on top of the branch stuck into the clay pot.
Dab some hot glue down the opposite side of the 10-inch foam ball and position the remaining branch in the hole. Allow the glue to set, then place the second ball on top. Allow everything to dry before continuing.
Cover the floral foam balls with hot glue and, as you work, place Spanish moss on the glue. When the foam is completely covered, secure the moss in place by pushing U-shaped floral pins over the surface. You do not need many pins for this portion; placing a pin into the foam every five inches should suffice. Cover the clay in the pot with Spanish moss to keep the clay hidden.
Wrap the silk ivy vine around the outside of the floral foam, pinning the ivy every 6 inches to 8 inches. Cut the excess ivy away when you feel the plant is sufficiently covered.
Push the stems of flowers into the floral foam if you want to add some blooms to your topiary trees. Ensure that the blooms are evenly spaced around the plant.
Things You Will Need
2 straight branches measuring 2 feet

Knife

Large clay pot

Dry-hard clay

8-inch floral foam ball

10-inch floral foam ball

Spanish moss

Hot glue gun

Wire floral pins

Silk ivy

Scissors

Silk flowers (optional)