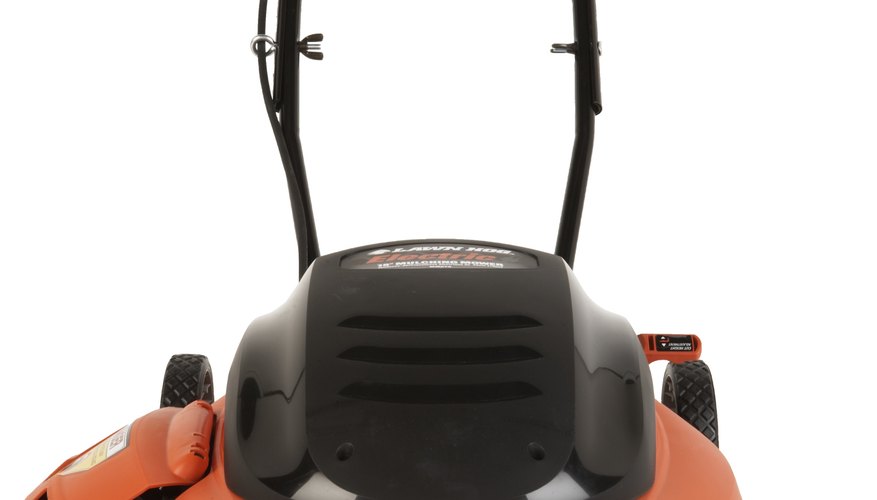 Black and Decker corded electric lawn mowers provide a convenience in lawn care that isn't offered by gasoline-powered mowers. No fossil fuels or lubricants are required to run or maintain an electric mower. Spark plugs, fuel and air filters are never needed for quick starts and good service. The imposition of wrangling an extension cord is clearly offset by the hassle of fetching and paying for gasoline every time you mow. Troubleshooting any performance issue is a steamlined affair centered on basic maintenance and mowing practices.
Avoid overheating the motor by using the proper gauge extension cord for the mower. Use an extension cord of 14 gauge or better in any length that's less than 100 feet. Prevent harm to the motor's longevity and power output by not combining extension cords or using any cord that exceeds 100 feet in length.
Check the electrical outlet being used if the mower fails to start. Test the outlet by plugging in another electric tool, like a drill. Reset the circuit breaker or replace the fuse for the outlet, if necessary. Transfer the drill or other electric tool to the female end of the extension cord to confirm good cord conductivity. The mower should run if the drill does.
Adjust the deck height if the motor slows while cutting. Disconnect the extension cord, and clear the discharge opening or clean the underside of the deck. Cease mulching, and connect the discharge chute if clippings continue to clog the deck. Mow in drier conditions if clippings clog the bag or if clumps of clippings are discharged.
Inspect the grass blade tips after mowing for poor quality cuts. Sharpen the blade with the drill and sharpening stone if the grass exhibits jagged edges or shredding at the tips. Investigate mower vibrations by inspecting the blade for chips, cracks or looseness. Follow the manufacturer's guidelines for removing and balancing the blade if no defects are visible. Consult a Black and Decker approved service center if vibrations persist.
Things You Will Need
Corded electric drill

Mower blade sharpening stone
Tip
Mow in the driest conditions possible to avoid wet clippings clogging the deck or building up on the blade. Mow half the width of the deck at a time to achieve a clean and even cut. Adjust the deck to the highest setting for tall grass, and mow again later at a lower setting if the yard has gone without care for a while.
Warning
Keep hands and feet from under the deck anytime the blade is spinning or the mower is connected to the power cord. Disconnect the power cord before adjusting or cleaning the mower.