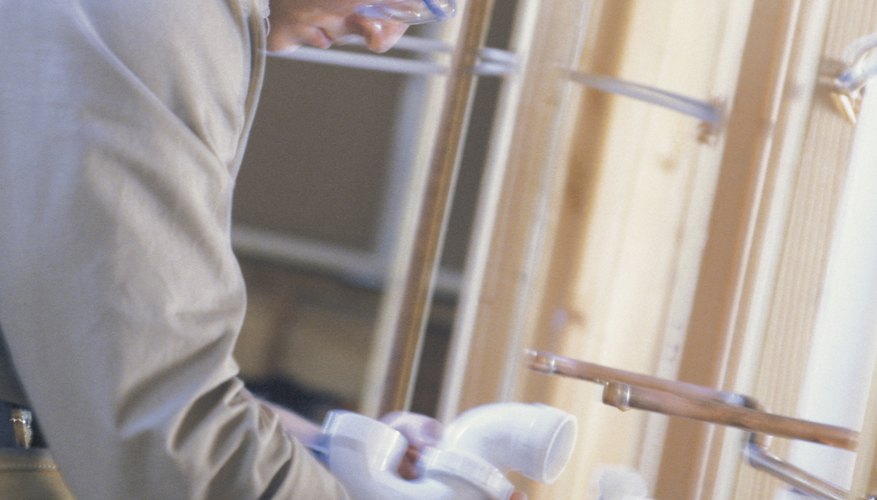 Laying pipe below concrete slabs is one of the more important skills for landscapers to master. The reason some landscapers have bad experiences when laying pipe around, and especially under, concrete slabs is that they are unaware that specific steps need to be taken. For a landscaping project that requires running PVC pipe under concrete to be successful, it is necessary to tunnel -- called moling -- under the slab.
Identify the direction of the target pipe. Pound marker stakes and stretch a chalk line. Snap the line across the concrete slab.
Dig two large holes -- one on either side of the slab -- wide enough to maneuver a moling activity in and deep enough to catch 5 gallons of water. For a 5-foot wide slab, a 2-foot diameter hole is sufficient.
Cut a piece of 1-inch PVC pipe with a hacksaw, 1 foot longer than the width of the slab. Glue a 1-inch slip connection with a 1-inch threaded female end onto one end of the pipe. Glue a 1-inch-slip to 1/2-inch-male threaded connection on the other end of the pipe.
Take a 1-inch by 4-inch piece of male, threaded steel pipe and pound it flat with a hammer. Screw it into the threaded female end of the PVC pipe. Screw a garden hose connection to the threaded male connection on the other end of the pipe.
Turn on the water line at maximum pressure and insert the cutting end of the moling assembly under the concrete slab. Hold the PVC pipe with a pipe wrench or vise grip pliers and rotate it while pounding with a hand or knee against the hose-connection end of the pipe.
When the pipe breaks through on the other side of the slab, turn off the water, remove the pipe and bale out both sides of the slab. Unscrew the water hose and wrap a small rag around the end and force it into the coupling. Use the rag end of the pipe to force most of the water out of the moling trench under the slab. Proceed to lay PVC pipe under the slab.