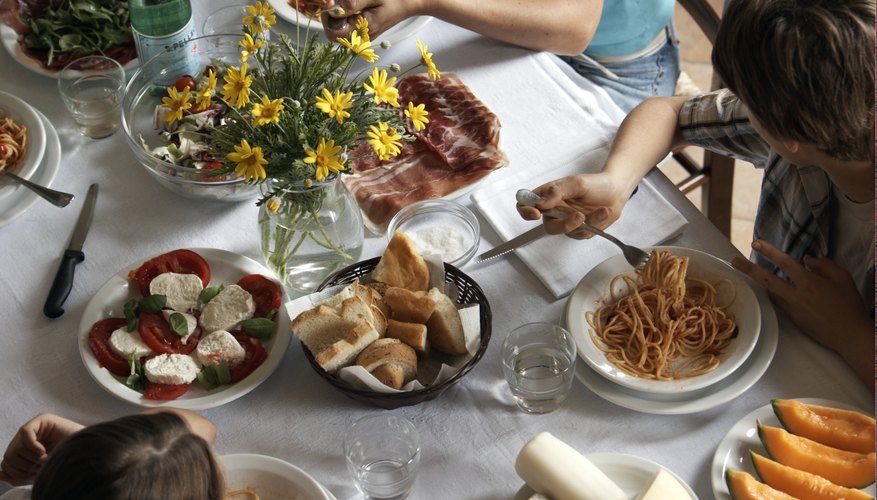 Whether it is a dinner party, wedding or any other celebration that has an Italian theme, the flowers you use for centerpieces should reflect the region. Most Italian themes are further defined to a specific region, usually Tuscany or the Mediterranean. The decor of these regions incorporate bright, vivid colors and whatever flowers you select for the centerpiece need to also be bright and colorful.
Big, Round Flowers
Use big, bright, round shaped flowers like sunflowers, peonies and Asiatic lilies as the focal flowers for an Italian centerpiece. Vividly colored chrysanthemums, roses in full bloom, hydrangeas, tulips and large calla lilies also are often used. Large round flowers usually have long stems for taller, Italian styled centerpieces and can be arranged not only as the focal flowers but also as the only flower, complemented with greenery.
Spike-Type Flowers
Spike-type flowers combined with large round flowers in an Italian centerpiece are stunning, as the two conflicting flower shapes complement each other. Add spike-type flowers like delphiniums, snapdragons, clarkia, tuberose, liatris and salvia to any large focal flowers for your Italian centerpiece. The colors of your spike-type flowers can be similar to the large flowers for a monochromatic look, or select opposite colors to highlight the focal flower.
Filler Flowers
Filler flowers are smaller flowers used to fill in gaps and complement the focal flowers. In Italian themed arrangements, filler flowers commonly used are daisies, rose buds, statice, small button-shaped chrysanthemums and freesias. Flowers from Mediterranean vines like clematis, honeysuckle and bougainvillea are also ideal filler flowers for your centerpiece.
Herbs
Herbs play an important part in all aspects of Italian life, from culinary to gardening. Including sprigs and stems from classic Italian herbs in your centerpiece can turn any arrangement into an expression of Italy. Use the greenery of herbs as fillers or incorporate the herb foliage with flowering herbs. Rosemary, sage, thyme, parsley, fennel and lavender in the arrangement will transform your centerpiece into a fragrant Italian display.
Beyond Flowers
Many Italian-themed arrangements and centerpieces include fruit that is associated with the region. Bunches of grapes mixed in with your flowers and draping over the sides of your arrangement will emphasis the Italian theme. Use wooden skewers poked into citrus fruit like lemons or limes to add them in among the flowers and greenery. Small pomegranates can be glued to skewers and inserted the same way. Stems of berries or rose hips used as fillers add interest and color.