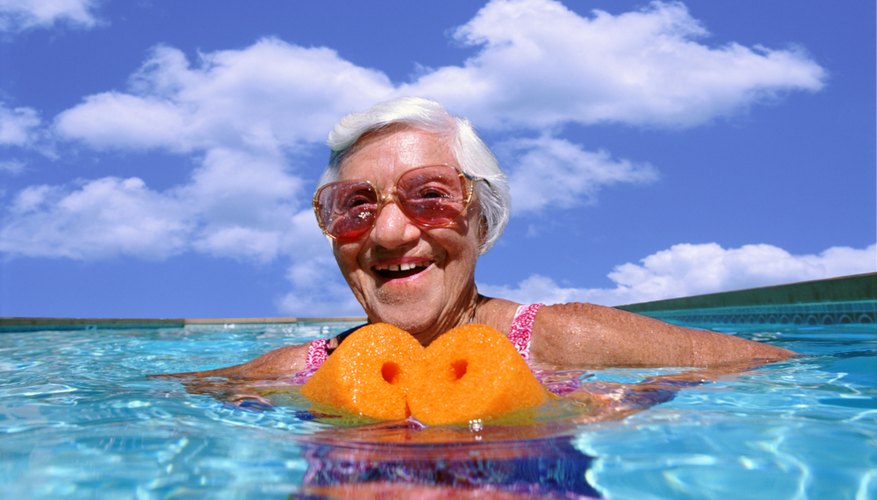 Pool noodles are soft, flexible floating toys which can be formed into many shapes and configurations to use in the pool. Some of these configurations can be used in place of purchasing pool items that are often more expensive than buying a few pool noodles.With a few pool noodles, you can create a floating chair to use in your pool at home or anywhere you want to relax in the water.
Fold one of the pool noodles in half. Secure the two ends together loosely with a zip tie to hold it in place while you construct the rest of the chair.
Insert one end of the second pool noodle into the bend of the first pool noodle. Secure the folded pool noodle where the two noodles meet with a zip tie. This will hold the two noodles together.
Bend the second pool noodle over and insert the other end into the slot created at the other end of the folded pool noodle. Tighten the zip tie at the ends of the first pool noodle and secure another zip tie on the other side of the second pool noodle, around the two sides of the first pool noodle. The two zip ties hold this side in place.
Clip off the ends of the zip ties with scissors so there are no loose ends showing.
Wrap the zip ties in duct tape to protect you from scratches.
Things You Will Need
2 Pool noodles

Zip ties

Scissors

Colored duct tape
Tips
If you want to create a more supportive seat in your chair, purchase mesh and secure one end to the middle of the u-shaped pool noodle and the other end to the doubled-over pool noodle with zip ties. This creates a sling seat.

To use the pool noodle chair, sit in its middle with your legs draped over the u-shaped piece and your shoulders or mid-back across the doubled noodle.