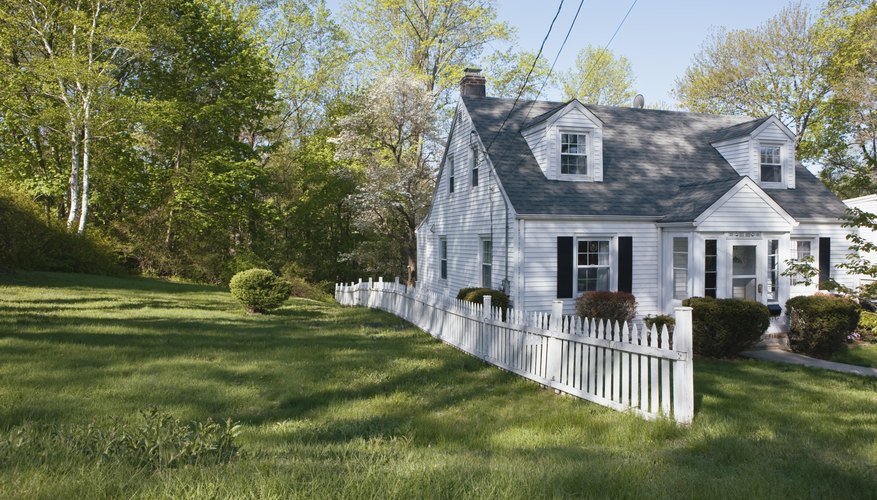 Lounging amongst the greenery of a front yard is one of the perks of being a homeowner. However, unsightly cable and utility boxes can detract attention from landscaping and mar the appearance of a well-kept yard. These boxes are typically located on the side of the home or at the front of the yard near the sidewalk. While removal of the boxes is often not an option, there are ways to make them more discreet.
Apply several coats of outdoor paint to the outside of the box. Choose a color that suits your yard, such as a deep hunter green or a dark brown. Prior to painting, clean the outside of the box thoroughly with a damp towel to improve paint adhesion.
Arrange small plants and shrubbery around the perimeter of the box using a hand shovel and bagged soil. Avoid using plants or shrubs that can grow to a height of 3 feet or taller; these may render the box inaccessible to a maintenance worker.
Stack several rows of landscaping rocks around the base of the box. Add large rocks for the first row, then medium and small rocks for any additional rows. Experiment with rocks of different colors and shapes for attractive results.
Place a decorative utility box cover over the unit. These covers, which come in a variety of sizes and designs, are typically available at home improvement stores and hardware retailers. If maintenance of the unit is required, lift the cover off for access.
Things You Will Need
Paint (hunter green, brown)

Paint pan

Paintbrush or roller

Shrubbery or plants

Hand shovel

Bagged soil

Landscaping rocks

Decorative cover
Tips
Check with the landlord or homeowner's association prior to disguising or painting a cable box.

Avoid disguising the box with plants that attract bees, wasps and other stinging bugs.