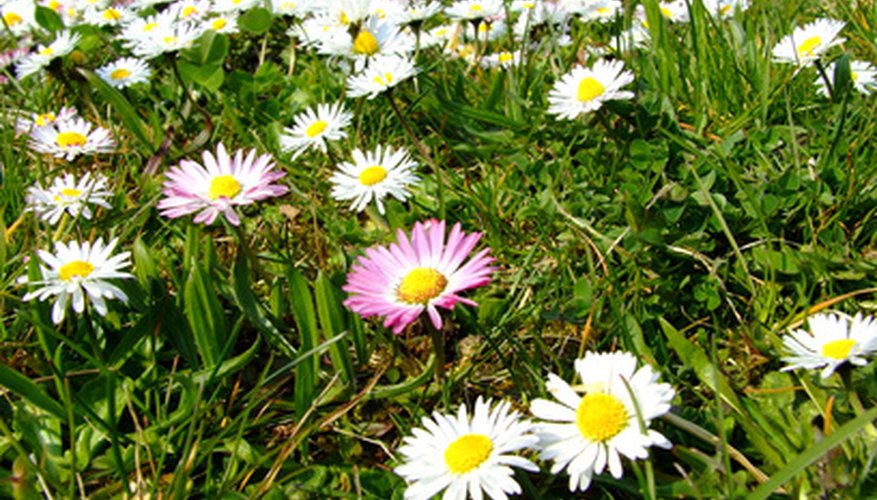 Maintaining an attractive flower garden gives you the ability to experiment with a variety of different flower types. Choosing perennial flowers gives you the chance to enjoy the blooms year after year, as opposed to annuals that need yearly replanting. Planting sun-loving perennials in your yard takes advantage of the brightest areas of your home landscape.
Basket of Gold
Also known as golden alyssum, Basket of Gold provides your garden edges with bursts of yellow flora. Basket of Gold flowers thrive in direct sunlight throughout most temperate-climate gardens and grow well during the springtime season. The flowers are low-growing and climb along the ground like lantana flowers. Planting Basket of Gold flowers along your garden borders and in raised beds provides you with lush, billowy blossoms of sunny yellow contrasting with deep green foliage.
Bearded Iris
A hardy perennial requiring little maintenance, the bearded iris thrives in direct sunlight during the spring and early summer seasons of temperate climates. Identified by its three upright petals and three downward hanging petals, the bearded iris comes in a variety of colors from white to deep burgundy-black. Bearded irises thrive in raised beds and border floral gardens, giving your landscape a splash of color in the full sunlight.
Daylily
Diverse in color and appearance daylilies serve as attractive sun-loving bulb perennials. The flowers grow to about 1-1/2 feet in height and require very little maintenance. Poor soil quality doesn't stop day lilies from blooming throughout the early spring and late summer months in most climates, as long as there is moisture provided weekly. Daylilies, like other bulbous lily flowers, make excellent bed flowers in the sunniest part of your yard.