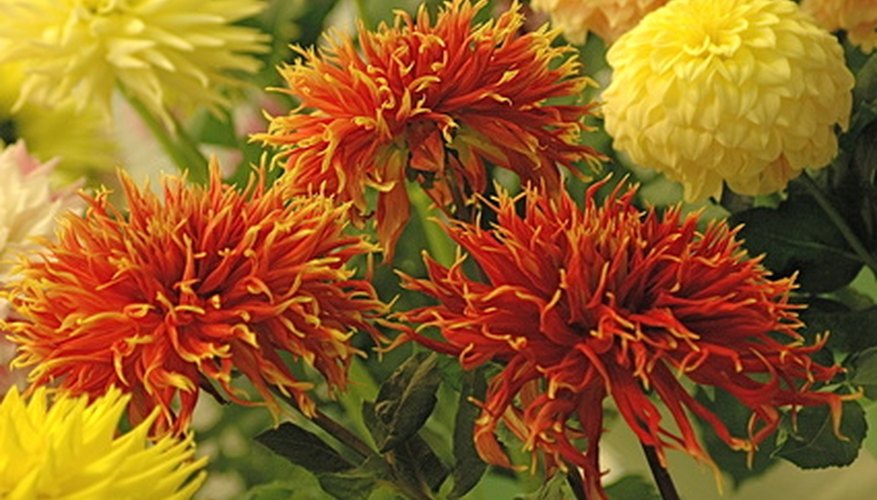 A genus of perennial plants, dahlias come in many varieties. Some varieties of the dahlia are bush plants, and many others are commonly grown garden flower varieties. Knowing about some of the different kinds of dahlia flowers gives you the experience to choose an array of textures for your garden landscape.
Anemone
Anemone dahlias produce interesting petal formations in that the pom-pom like floral center is surrounded by a fan of flat,wide petals. Anemone dahlias, such as Brio, Blue Bayou, Lucky Duck, thrive in full sun during the spring and summer months in a temperate climate setting. Give anemone variety dahlias compost-enriched soil and moderate amounts of moisture.
Ball
Ball dahlia varieties live up to their name in that their double-petals form a perfect spherical shape atop the stem. Ball variety dahlias include Amira, Barbarry Glamor, Barbarry Ideal and Red Balloon. Like most dahlia types, ball dahlias thrive in sunlit flower beds, adding a splash of rainbow color to your landscape environment.
Cactus
Cactus dahlias produce double blooms that are slender, wispy and end in points. The pointed, double petals of the cactus dahlia conceal the innermost part of the flower, making it look like a colorful cactus atop the slender tall stem of the plant. They vary in color from white to deep purple-black and every color in between, making them excellent choices for a colorful splash of color in your yard. Varieties include Aitara Caress, Blackberry Ripple, Poppers and Rose Jupiter.
Dwarf
Dwarf dahlias are best suited for bordering a flower bed or garden pathway, as they are stout with thick clusters of shrub-like deep green foliage. The flowers of dwarf dahlias vary from pom-pom-like to cactus-like, and resemble a wide array of other dahlia varieties in smaller form. Rembrandt, Binky, Tudor and Art Nouveau are dwarf varieties that prove popular as edge plants or decorative flowers for hanging baskets and other containers.