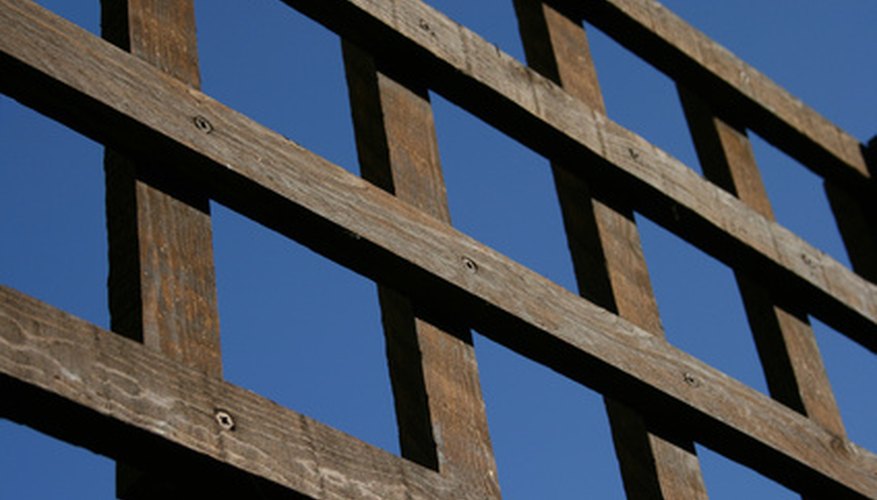 A wooden lattice trellis is one of the most popular plant supports in the gardening world. It not only adds more growing space to your landscape, but may also provide a decorative beauty by creating a privacy wall or separation panel. A trellis can be secured to a wall, side of a house or installed into the ground to be freestanding. When building the trellis, make sure to check the area's dimensions where you want to install the trellis, and measure the boards accordingly. A common wooden vine trellis size is 4 feet by 4 1/2 feet.
Find a flat surface to work on. Lay out the five 4 1/2-foot wooden boards side by side vertically. Line up the edges until even. Use the tape measure to space the boards 4 inches apart.
Measure 4 inches down from the top edge of the boards. Pick up a board from the 4-foot long boards and lay it across at this 4 inch mark, horizontal. Center the board on the 4 1/2-foot board layout.
Measure down from this horizontal board another 4 inches and lay a second horizontal board, centering it. Repeat this process of measuring down 4 inches and laying horizontal boards until you reach the end of the trellis. It should resemble a tic-tac-toe board now.
Secure the lattice trellis together. Drive a nail through each intersection where the boards meet. Carefully pick up the trellis and flip it over. If there are any nail edges jutting out of the back of the intersection, nail them down so they are laying flat against the wood. Repeat the process of driving nails through the back intersections if you feel it needs more security.
Seal, stain or paint the trellis if you desire. You can match it your house paint color, a gardening theme or to blend in more naturally to the vines (by painting it a shade of green or stenciling vines). Allow the trellis to dry for a couple of days before installing.