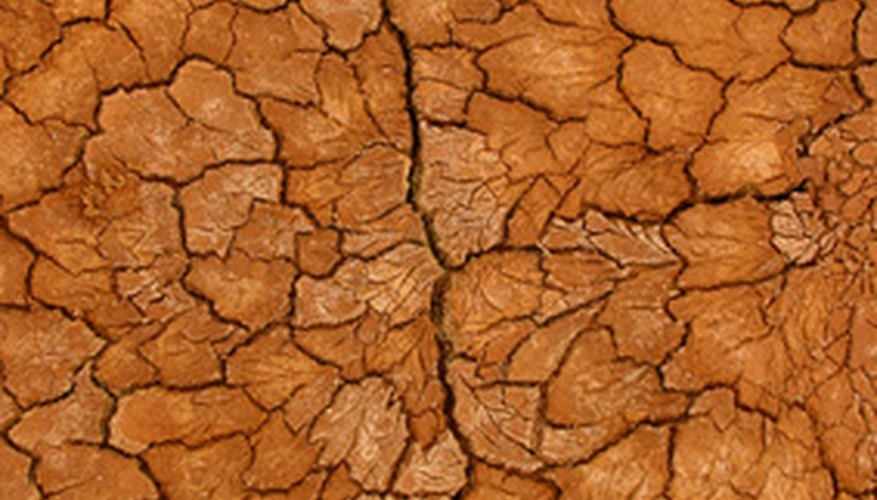 clay image by Pavel Korsun from <a href='http://www.fotolia.com'>Fotolia.com</a>
Gypsum, or calcium sulfate, is often used on lawns to improve the soil. Granular gypsum, when added to the soil, helps to break it up. This gives the grass plants easier access to soil and water so that they can grow healthily and thickly. However, according to agriculturalists at Louisiana State University, gypsum is not a necessary or desirable amendment for every type of soil. It is usually only necessary for hard, compacted soils with very high clay content, or on soils with very high salt contents or calcium deficiencies.
Calculate the amount of gypsum you will need. Established lawns take between 40 and 50 lbs. of gypsum per 1,000 square feet. Lawns with excessively high clay contents take 80 to 100 lbs. When preparing to plant a new lawn on soil with high clay concentrations, use up to 300 lbs. per 1,000 square feet.
Add half the amount of gypsum to a broadcast fertilizer spreader. Spread the gypsum evenly over the lawn, working in parallel rows as you would with a lawn mower.
Add the other half of the gypsum to your spreader. Spread it evenly over the lawn. But this time work in rows that are perpendicular to the rows you made in Step 2.
Water your lawn evenly with roughly 2 inches of water, or until all of the gypsum has absorbed into the soil.
Tips
Add the recommended amount of gypsum to your lawn in spring and fall.

Before making the decision to add gypsum to your lawn, contact your local county extension office to arrange a soil test. The results along with the help of a staff member will help you to determine how much gypsum, if any, you need to add to your lawn.