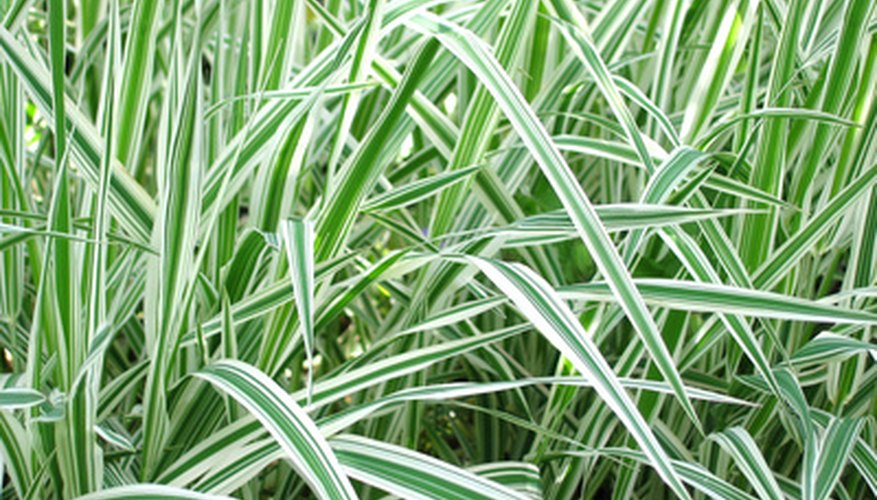 ornamental grass image by Edsweb from <a href='http://www.fotolia.com'>Fotolia.com</a>
Ornamental grasses are used as landscaping plants and include grasses, bamboo, sedges and rushes. Prized for their relative low cost and easy maintenance, ornamental grasses come in a variety of sizes, colors and textures. As a general rule, most ornamental grasses require lots of direct sunlight to maintain optimum health. However, some ornamental grasses that are well adapted to moist environments are also tolerant of partial shade.
Korean Feather Reed Grass
Korean feather reed grass (Calamagrostis brachytricha) requires moist, temperate environments and can grow up to 3 feet in height in partial shade. Aesthetically pleasing, Korean feather reed grass has pink flowers that form at the top of long blades.
Northern Sea Oats
Northern sea oats (Chasmanthium latifolium) is a shade-tolerant, cool-season grass with light green foliage that can grow up to 2 feet in height. This ornamental grass is easily distinguished by drooping, copper-colored flowers.
Tufted Hair Grass
Tufted hair grass (Deschampsia cespitosa) is a cool-season grass with dark green leaves and a tufted texture growing up to 4 feet high. This grass tolerates light shade, high elevation climates and a wide variety of soil conditions.
Velvet Grass
Velvet grass (Holcus lanatus) is a low growing, cool season grass with gray-green leaves and white flowers that bloom in summer. Tolerant of partial shade, velvet grass requires moist, well drained soil conditions.
Japanese Sedge
Japanese sedge (Carex morrowii) is a clump-forming sedge plant with bright green foliage that prefers temperate climates. Growing to 1 foot in height, Japanese sedge can tolerate partial shade but requires constant moisture and well drained soil.