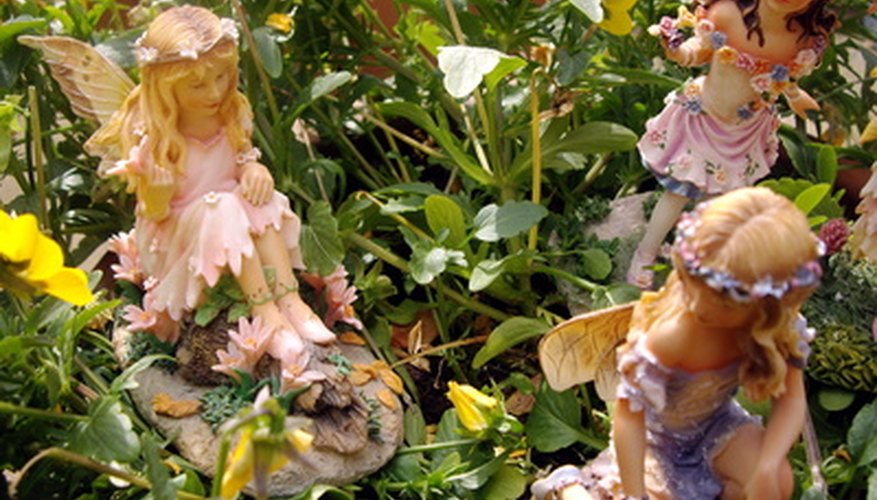 Fairy gardening is gardening in miniature, with the addition of whimsical dwellings designed to scale. Although there are no hard and fast rules to creating a fairy garden, there are themes that most fairy gardens share. Shared characteristics include fairy houses, dwarf plants and small-scale ornamentation.
Fairy Houses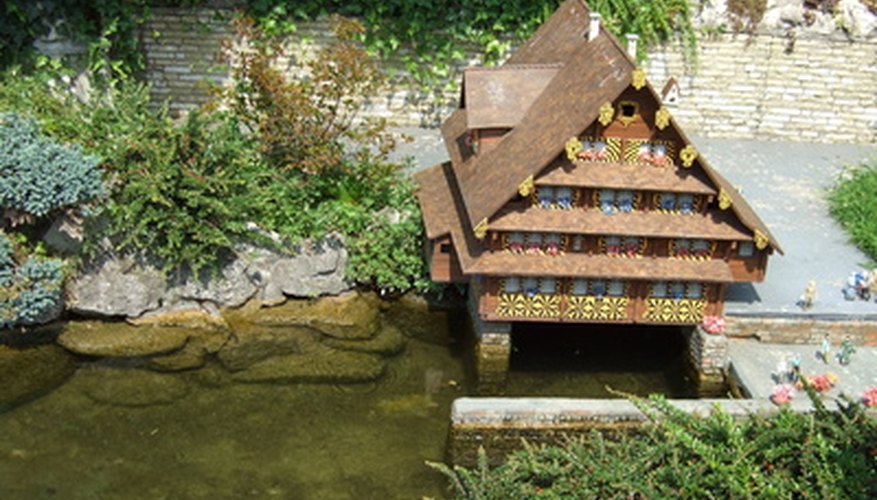 Traditional fairies would not embrace plastic houses or artificial flowers, and including these materials into a fairy garden detracts from the charm. Instead, fairy garden architects create small houses from natural materials, or from "found" materials an imaginary fairy may stumble across. Many craft stores sell small, unfinished bird houses. While unsuitable for most birds, the houses are excellent base models for a fairy house. Alternatively, many gardeners use ornamental gourds as miniature buildings, drying and sealing the gourd from the weather. Many other items become fairy housing with some ingenuity, including driftwood, small hollow logs, tree stumps or sod-covered mounds. Craft moss or polished stones outline windows and doors. Small pieces of slate make pathways and thresholds, while weathered pennies become shingles. A marble on a golf tee can be a gazing ball, and Jennifer Nelson from the University of Illinois Extension suggests making miniature trellises or arbors with curved sections of wire. Details, like fencing made from small twigs or a fairy-scale garden patch, add a hint of realism.
Plant Selection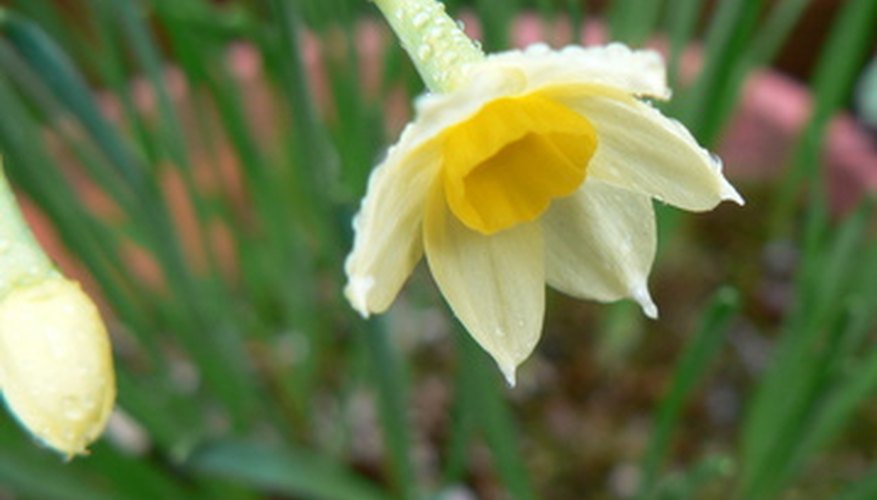 Fairy gardens incorporate plants in proportion with the garden art. Gardeners strategically prune shrubs to resemble mature trees, surround the area with flowering perennials and plant chamomile (Chamaemelum nobile), woolly thyme (Thymus pseudolanuginosus) or other low, creeping groundcovers as fairy lawns. Although traditional fairy gardens are reminiscent of English cottage gardens, fairy gardens are not limited to this plant theme. Alpine plants are often natural dwarfs and fit in well into a fairy landscape. Spiky clumps of ornamental blue fescue (Festuca ovina var. glauca) provide a textural contrast, especially in drier zones, and desert-dwelling fairies may have adobe homes set among succulents. Slow-growing conifers appear to have the stature of a redwood when placed next to a fairy-size log cabin. The goal of a fairy garden is to create a miniature landscape, and the plants should add to the effect.
Location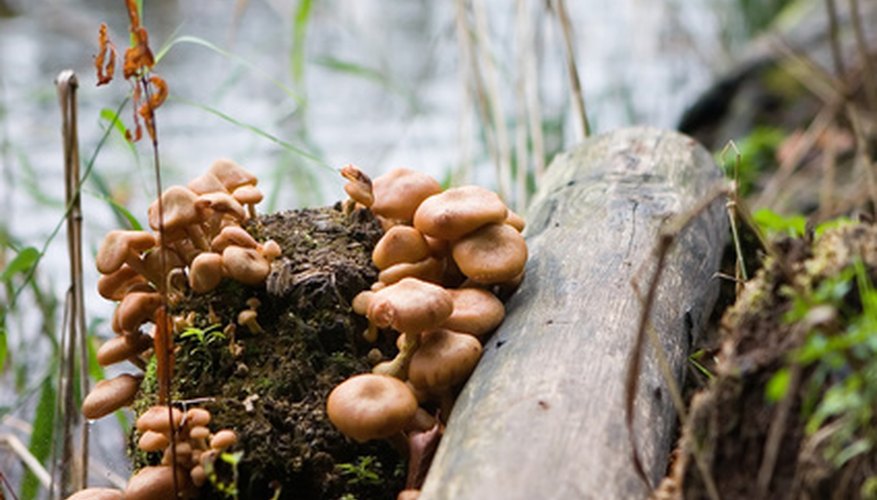 The website Enchanted Gardens states the cardinal real estate rule is the same for both real homes and fairy homes: location, location, location. Fairy gardens are tawdry when set in the middle of the landscape. Instead, fairy gardens seem natural in a sheltered corner, under a shady tree or near a cluster of boulders. Fairy gardens should be slightly hidden, tucked just out of sight. Visitors rounding a corner of the garden and meeting the surprise of a miniature homestead find the effect charming. However, when the fairy garden is easily seen, it is just as easily dismissed.
Containers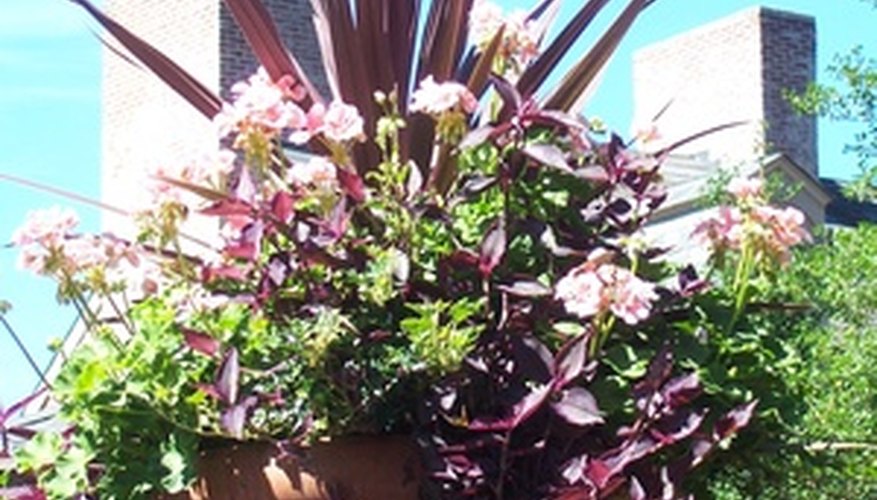 Not every gardener has access to a full-size garden. Container gardens are prime real estate for a fairy home. Containers lend themselves to more delicate plants and intricate ornamentation: When harsh weather arrives, the gardener can move the container to a sheltered area. You even find fairy gardens indoors, tucked into houseplants. Container fairy gardens are not obvious, however, and still have an element of surprise or mystery.
Ornamentation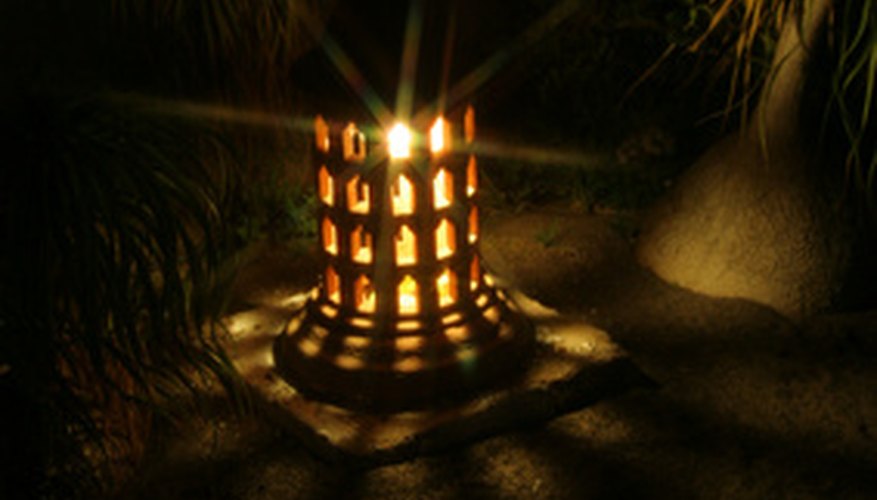 Some gardeners tuck solar lights behind or even within fairy houses, leaving the solar panel exposed. The soft light at dusk adds an ethereal effect. Fairy lights, also sold as Christmas lights, are charming when used in moderation, especially when they have a "twinkle" setting. Ponds and waterfalls are more elaborate, but an in-ground birdbath makes a simple landscape addition to the fairy neighborhood. Small, plant-covered mounds become hills when placed in the foreground, creating depth. Flagstone or river rock roads connect fairy houses before winding out of sight. Although some gardeners do set fairy statues or figures among their designs, most prefer to hint that the fairy simply isn't home at the moment, but may return at any time.